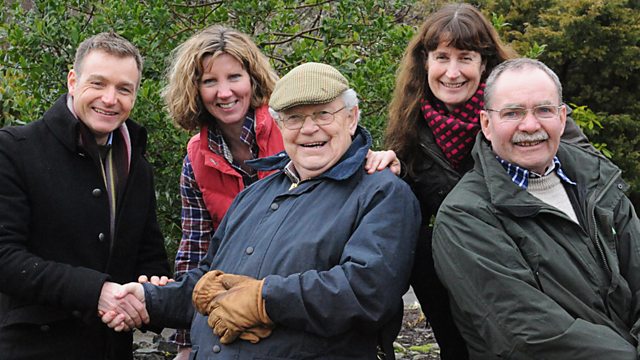 Jim reviews his tomato trial and discusses the feeding regime and the care of the tomatoes at this stage. This year, after a viewer's query of what is the best tasting tom, Jim is trying out different varieties of tomatoes - in the name of science, for taste.
Carole takes a similar review look at her trial of grafted v non grafted cucumbers to see which gives the best yield and best value for money. In the warm weather of the last few weeks, the cucumbers are triffid like in the polytunnel.
Chris is with Sally Cheseldine in Balerno who wanted help to deal with a lawn part of which is a quagmire. Chris dug a huge hole and they stood and looked at it for some time to watch it fill with water in front of their eyes, the result of some very bad or no drainage from builders. Chris then showed Sally how to work with what she has to create a marshland/bog area in her garden full of lovely wetland plantings.
Carole is also with Panny Laing at Logie Steading garden near Forres. This garden was closed for two years to undergo a massive renovation project and since then well over 2,000 plants have been planted and they have taken the opportunity to plant lots of unusual plants in the various different conditions that have been created. This is a stunning new/old garden with many rooms and now a new calm feel in the design and the planting.
Last on
Credits
| Role | Contributor |
| --- | --- |
| Presenter | Jim McColl |
| Presenter | Carole Baxter |
| Presenter | Carolyn Spray |
| Presenter | Chris Beardshaw |
| Presenter | George Anderson |
| Producer | Gwyneth Hardy |