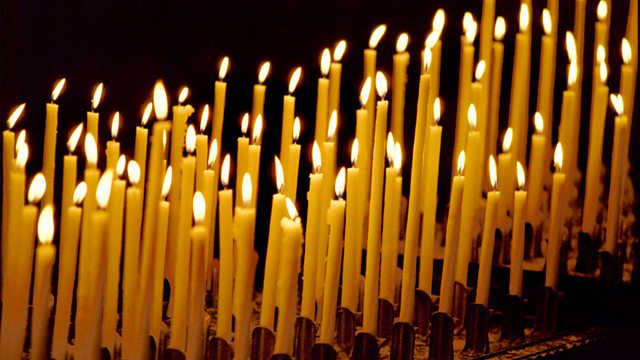 20/07/2013
A spiritual comment and prayer to begin the day with the Venerable Peter Townley, Archdeacon of Pontefract.
Last on
Prayer for the day - Peter Townley
Good morning,<?xml:namespace prefix = o ns = "urn:schemas-microsoft-com:office:office" />
I was spellbound the other week, listening at a breakfast meeting to the story of the adventures of five teachers, who in 1967, after saving up for two years, set off from Barnsley in a fully laden Landrover and made their way to Kathmandu. They set out from there and trekked to the base camp of Mount Everest. It was quite an undertaking and all organised by themselves. Not only was it the enthralling story of an unforgettable journey across land, it was also a moving tale of the people they met and the Nepalese welcome and openness they enjoyed.
Mount Everest has always held a magnetic fascination for mountaineers and it is the scene of great achievement as well as tragedy.
Sir Edmund Hillary was born on this day in 1919. Sherpa Tenzing and Hillary were the first men in 1953 to scale Everest successfully.  The Duke of Edinburgh was Patron of the Expedition, and for many people the news of this achievement put the icing on the Coronation cake.
Reading the accounts of these achievements, what is striking is just how much they were team efforts, with none of the advanced technology we take for granted today.
Sir John Hunt, the leader of the expedition, spoke of the comradeship forged through the dangers and difficulties in attaining their goal.
When they reached the summit of Everest, Tenzing made his small offerings to the gods that Buddhists believe have their dwelling there, and beside them Hillary buried in the snow a crucifix,  which Hunt had given him to take to the top.
O ye mountains, and Hills, bless ye the Lord, Praise him, and magnify him for ever. Amen.
Prayer for the day - Peter Townley
Good morning,<?xml:namespace prefix = o ns = "urn:schemas-microsoft-com:office:office" />
When I visited Batticaloa on the east coast of Sri Lanka a few months after the tsunami in 2004 the local Priest lamented: "The sea is calm today like a good boy." The previous Boxing Day the waves of the tsunami were high above the coconut trees, destroying everything in their path.
As we drove past the shells of the ruined homes, he told me stories of the families who once lived there and what happened on the day that struck terror around the world.
I was taken to the refugee camps there and met many people who had lost family and possessions and were left with nothing.
Some people in the camps were still living in tents, others in tin huts in which they either baked in the mid-day sun or lived in fear of being washed out when the monsoon season came. Clothes sent from the UK were certainly put to good use.
I sat down in the sand to talk to one young woman and play with her children outside their tin hut. Having lost her husband and her mother, she was now left alone with her small family. As with many others throughout the world today, hers was a heartbreaking story.
Then she offered me a drink of cherryade. I didn't know what to say. She had nothing and yet she could give me a drink.
Mary Magdalene, in history perhaps a much misunderstood but loyal and brave follower of Christ, has her feast day today. Just as Mary was the first witness of the resurrection, so this woman's action was a symbol, in all that devastation in Sri Lanka, of new life and hope for the future.
Help us Lord today, like Mary Magdalene, to be pointers to the hope of new life. Amen.
Prayer for the day - Peter Townley
Good Morning,<?xml:namespace prefix = o ns = "urn:schemas-microsoft-com:office:office" />
Trafford Park in Manchester, where I had a Parish, was once a thriving industrial estate and known as the machine shop of Europe.
In its heyday, with tens of thousands of workers there, at night there was a queue of buses literally a mile long waiting to take them home.
Even Henry Ford had a factory there once on First Avenue in the Park.
Now making millions of cars worldwide each year they have come a long way since 1903, 110 years ago this month, when Ford in Detroit sold his first car to a doctor in Chicago.
As the Ford factory in Detroit was expanding, Reinhold Niebuhr came to that industrial city to be a Pastor. A bright young man, caring for the people there taught him to connect what it is to be human with life in a changing world.
Writing in his diary in 1925 about a visit to a car factory, he said: "The men seemed weary...and toil is slavery. They simply work to make a living. Their sweat and their dull pain are part of the price paid for the fine cars we all run. And most of us run the cars without knowing what price is being paid for them."
Later, when he was a Professor at Union Theological Seminary in New York, Niebuhr would sit in the chapel and read the newspaper. For him that was prayer. His understanding of God and people was very much rooted in the messiness of the world. It was there that he wrote the prayer for which he is particularly remembered:
God, grant me the serenity to accept the things I cannot change; courage to change the things I can; and wisdom to know the difference. Amen.
Prayer for the day - Peter Townley
Good morning,<?xml:namespace prefix = o ns = "urn:schemas-microsoft-com:office:office" />
100 years ago John Jowitt Wilson went to be the Rector of St Michael and All Angels, Angel Meadow in Manchester. I still use his well-thumbed Prayer Book.
He was Rector there until 1927, dying, "worn out", a year later. He gave himself totally to the people and parish. The Manchester City News described him as: "the stalwart figure, with the big, kind genial face, so well known to every man, woman and child in Saint Michael's parish."
Lowry, whose exhibition at the Tate Britain is currently pulling the crowds, knew this area well. Indeed two of his paintings on display, "Britain at Play" and "View of a Town", are dominated by views of St Michael's.
Angel Meadow was one of the poorest areas in Manchester with the smelly River Irk, the flea-ridden lodging houses and people in rags living in cellars.  
The churchyard, known as St Michael's Flags was so named because it was covered by flagstones marking the graves of 40,000 paupers. Within the parish Sharp Street and Charter Street Ragged Schools, providing free education for destitute children,  became by-words for the church's care of those in need.
St Michael's is now long since demolished. The flags now have become a beautiful park, an oasis of peace near the city centre.  Moreover, the memory of John Jowitt Wilson, and many like him, remains an inspiration.
May we be inspired by his example to serve and care for the poor and those in greatest need. Amen.
Prayer for the day - Peter Towley
Good morning,<?xml:namespace prefix = o ns = "urn:schemas-microsoft-com:office:office" />
Today is the Feast of St James the Great.
He's always been special to me because I was baptised at St James the Great in Collyhurst in Manchester one snowy December afternoon. For many others he's important because his remains are in the Cathedral at Santiago de Compostela which is now more than ever a popular pilgrimage destination.
St James is well known for two stories in the Gospels. The first is that of James and his brother's John's anxious mother and her wish that her two sons are given the best seats in the Kingdom of God. Jesus firmly reminds her that the Christian life is about service rather than status.
The other is his mountain top experience with John and Peter of seeing Jesus transfigured.
Reading those stories through the eyes of St James turns our world view upside down so that we see God and each other in a new way.
This dramatically happened to Charles Raven, a great theologian in his day, who was something of a mystic. One of his life changing experiences happened as he passed a chip shop in Liverpool.
He talked of God meeting him in splendour there. "I was coming home", he said, "and passed some shawl-clad women gathered round a dingy shop. The proprietor, in his shirt sleeves, was dispensing packets of fish and chips wrapped in a newspaper. The place was lit by naphtha flares, and misty with the steam of cooking … And again of a sudden the glory; and God fulfilling his eternal task and giving to his children their daily bread."
Father, help us to understand you in a new way and to see your glory today in everyday things. Amen.
Prayer for the day - Peter Townley
Good morning.<?xml:namespace prefix = o ns = "urn:schemas-microsoft-com:office:office" />
The metro in Madrid was full of people going out for the evening when the peace was shattered by a man on his mobile karaoke machine.
Like many in that city he was down on his luck. He might well have been one of those whose home is a cardboard box erected each night in one of the squares there.
Needless to say, as he got going, he was hardly Mick Jagger at the recent sell out at Glastonbury, who today celebrates his 70th birthday!
People either ignored him or looked at the floor as he proffered his begging bowl.
That was apart from one young man. Sitting there, his reaction moved us all. His eyes lit up, a beaming smile filled his face and he not only listened but sang along. He knew the song!
The young man had Downe's Syndrome.
Never mind that our resident underground artist could hardly sing or that he was a beggar. The joy that filled our fellow traveller was infectious as he gratefully joined in the gift of music that was being offered to him despite all its imperfections.
All labels and masks disappeared. Our unkempt and bearded vocalist was no longer some hobo who you would rather ignore and nor was his fan somebody with learning difficulties who was different and might somehow need our help. Their meeting and the way they responded to each other fleshed out those powerful words of the German theologian Paul Tillich: "....simply accept the fact that you are accepted".
Lord, help us today to find joy and acceptance in the most unexpected of people, places and situations. Amen.