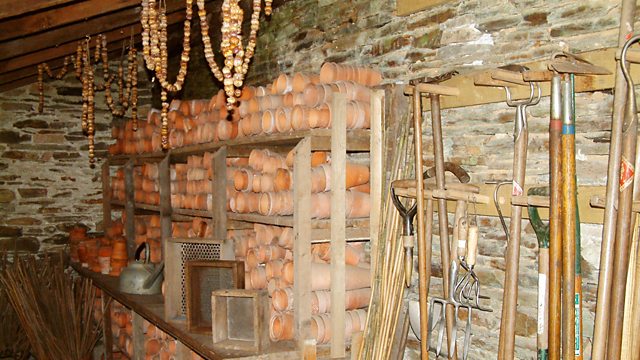 Staffordshire
Listen in pop-out player
Eric Robson hosts this week's episode of Gardeners' Question Time in Staffordshire. Answering the audience's questions on gardening are panelists Matt Biggs, Christina Walkden and Chris Beardshaw.
Produced by Howard Shannon
A Somethin' Else Production for BBC Radio 4.
Q. Which plants would provide a splash of colour and attract wildlife in the cobbled or tarmac alleys running behind rows of houses?
A. These alleys are likely to have one side in deep shade and the other in sunshine. For the warm, sunny side Wall Valerian, Sweet Peas, 'Spanish Flag', Petunias, as well as scented Pelargoniums or tumbling tomatoes in hanging baskets are recommended. Hydrangea Petiolaris, Hostas, Heucheras, Tiarellas, Corydalis Lutea and Alchemilla Mollis are suggested for the shady side. Toadflax and wild Geraniums are also recommended.
Q. Can the panel advise why Lupins will not grow in my garden? The soil is neutral, neither sandy nor clay.
A. If this is a repeated problem it may be as a result of the allelopathic effect of one or other of the plants already growing in the garden. Lupins thrive on being slightly raised and earthed up - planting them too deep could be the cause of the problem. Try growing them in a tub to see if this improves the growth. The variety 'Masterpiece' is particularly hardy. Tree Lupins are also recommended.
Q. I have an unruly fig tree - 15ft wide by 9ft tall (4.5m by 2.5m) - growing against a south-facing wall. How should it be pruned to maximise the fruit it yields?
A. Pruning figs tends to encourage more lush growth. Try feeding it with a potash-rich fertiliser to try and rein it in that way. Eventually it will settle down! The roots have probably gone down into moisture rich fertile ground. If possible dig down around the roots and sever some in order to compromise the root system. More generally, prune out any stem that is older than two years and fan-train the new stems against the wall.
Q. A 25 year old Yucca has grown two enormous side shoots along the ground. If these are removed to tidy the plant, could they be replanted?
A. Part of the shoots may have already rooted. New material can usually be replanted, but substantial material may not survive being removed from the main plant. Score some of the bark off the underside of the shoot and earth it up - within a season or so, this may have sent down its own roots, after which point it should be removed from the main plant.
Q. Two years ago I planted a damson tree. When can I expect it to fruit?
A. Fruit should not be removed from the plant for three or four years post-planting, whilst the plant is becoming established. It should start to fruit after five or six years.
Q. Would it be possible to move by 16ft (5m) tall Taxus Baccata? If so, when?
A. Try root pruning over the course of two years in order to get some fibrous root onto the tree. This will make it more likely to survive the move. Once the tree is showing signs of growth in May or June, use a chainsaw to reduce the height by around half and remove most of the side shoots before moving into a prepared pit. Water regularly throughout the summer and it should recover well.
Q. Would it be possible to grow plants in plastic guttering 2in deep by 4in wide (5cm by 10cm), fixed on a southwest-facing wall? Can the panel suggest any edible or decorative plants that may be suitable?
A. The gutter will need to be on a slight gradient for drainage and will need the gutter ends on to keep the compost contained. Smaller herbs, such as chamomile, thyme or Corsican mint are recommended. With enough water flowing through, watercress could be grown. Mini Hostas would also be happy in these conditions. Florist's foam and capillary matting are suggested as a way of ensuring that moisture is retained along the length of the guttering.
Last on
Seven things Prince Charles says you should do in the garden