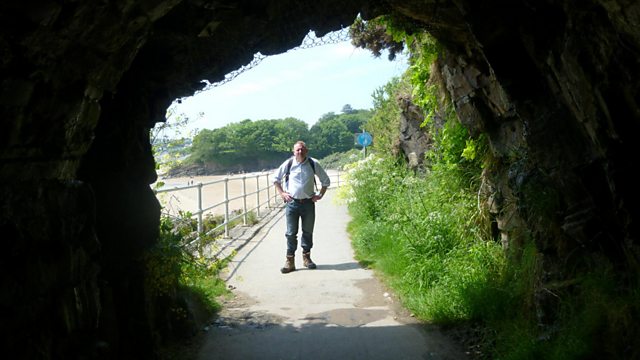 Jamie Owen explores the people and places of our historic nation. Setting off from Amroth, Jamie Owen walks the Wales Coast Path towards Tenby, chatting to other walkers on the way.
Last on
Jamie's Blog: Amroth to Tenby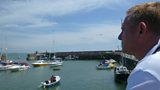 Jamie Owen walks the length of the Wales coastal path as his series continues on Radio Wales (Saturdays at 1 PM, repeated Sundays 5 PM). In his blogs he shares his experiences along the way - in the latest instalment he's arrived at Pembrokeshire at Amroth, en route for Tenby.
Amroth to Tenby
You never know who you're going to bump into on the all-Wales coastal path. On my walks so far, I've encountered scientists, a poet of great renown, a handful of Danes and Chinese visitors and on the beach in Amroth - a man who was sent to Wales to hide from the bombs of the Blitz. Dog walkers always stop and talk, but this particular couple had a more interesting story to tell than many. The elderly man, still spritely, recounted being loaded onto a train as a little boy - and with luggage lapel attached to his coat - was sent to somewhere called Wales to shelter in a safe place from the storm that was the Second World War. I left him behind at the water's edge with his wife to remember a life so full before the age of five. 
Pembrokeshire wasn't a safe place to hide during the war. The oil tanks along Milford Haven were heavily bombed along with its towns. It must have seemed like a cruel trick to be removed from the familiarity of the family home in bombed out English cities for the safety of Wales - only to be bombed here too. 
At low tide, I left the coast path behind and followed the shoreline round the coast from Amroth to Wiseman's Bridge. Churchill came here to inspect the rehearsals for D-Day that took place here in 1944. He took tea with his army commanders in the pub on the beach. There's not much to tell now of what went on. My mum grew up around here at that time and when we were little boys told us that they never went to the beaches because they were out of bounds, the dunes strewn with barbed wire.
The other side of Wiseman's Bridge, an elderly couple from London are pushing a buggy, they are grandparents taking their grandson out for the first time. He is the fourth generation of their family to come on holiday to Pembrokeshire, though he'll remember nothing of today's cloudless sky.
The Wales Coast Path into Saundersfoot leads through a long tunnel. Long before tourists came here to sprawl out over the beach it was iron and coal that kept people in employment and paid the wages. The remains of those industries lie all around from abandoned railway tracks to large country piles and this long tunnel that is a welcome temporary shelter for a few moments from the blisteringly hot morning.
Out of darkness and into the light, Saundersfoot harbour is picture perfect on a summer's day. There is something endlessly attractive about a family holiday on the beach - all you need is a tartan rug, some deckchairs and the fascination of the sea. Saundersfoot was packed on the day I walked across its beach, hidden from the harsher roll of the county's west facing beaches; its calm waves punctuate the hours like a reliable old clock.
I've been visiting Saundersfoot since I was a little boy, but in forty odd years I have never seen what happened next. At the end of the beach, in the village's square harbour, a small fishing boat arrived. And then another, followed by another, and then another. Just when you thought the Welsh fishing industry was consigned to the history books, something rather fascinating is happening here. Small fishing boats from Pembrokeshire are catching Whelks a few dozen miles off the coast, landing them today at Saundersfoot where they are loaded into the back of a waiting truck before being driven to Newquay where they are frozen. And then they are - wait for it - flown to Korea where Asian diners just can't get enough of this little Welsh shellfish the size of your fist. None of this enormous catch from half a dozen boats ever sees a British plate.
British shoppers don't like shellfish the skipper explained to me, (as it happened he didn't like whelks either). He described them as having all the appeal of chewing your mother-in-law's toes. They do say you should try everything once - but so far this experience has eluded me.
Jamie Owen's Wales - BBC Radio Wales Saturday 1 PM, repeated Sunday 5 PM & online after for seven days.