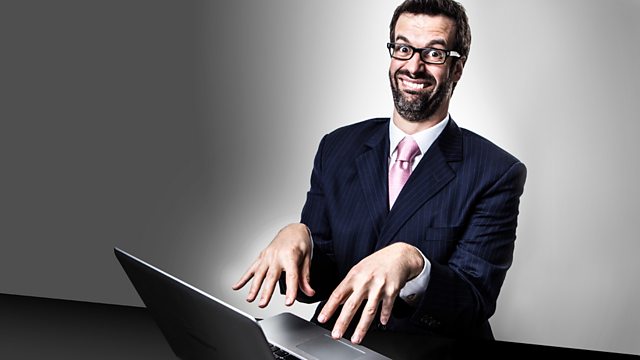 Uh-oh - Marcus Brigstocke has been put in charge of a thing!
Each week, Marcus finds he's volunteered to be in charge of a big old thing - a hospital, the railways, British fashion, a prison. And each week he starts out by thinking "Well, it can't be that difficult, surely?" and ends up with "Oh - turns out it's utterly difficult and complicated. Who knew...?"
This week - Marcus has been volunteered to be the face, not to say beard and glasses, of British food. During the course of the show, he'll be eating some food, examining the subject of packaging and waste, eating some more food, looking at supermarkets and seasonality, eating a bit more food, studying manufacturing and junk foods, eating some more food and then probably bursting.
Helping him serve up the show will be Rufus Jones (Hunderby, Holy Flying Circus), William Andrews (Sorry I've Got No Head) and Margaret Cabourn-Smith (Miranda).
The show is produced by Marcus's long-standing accomplice, David Tyler, who also produces Marcus' appearances as the inimitable as Giles Wemmbley Hogg.
Written by Marcus Brigstocke, Jeremy Salsby, Toby Davies, Nick Doody, Steve Punt and Tom Neenan.
Produced by David Tyler
A Pozzitive production for BBC Radio 4.
Last on
Credits
| Role | Contributor |
| --- | --- |
| Presenter | Marcus Brigstocke |
| Ensemble | Rufus Jones |
| Ensemble | William Andrews |
| Ensemble | Margaret Cabourn-Smith |
| Producer | David Tyler |
| Writer | Marcus Brigstocke |
| Writer | Jeremy Salsby |
| Writer | Toby Davies |
| Writer | Nick Doody |
| Writer | Steve Punt |
| Writer | Tom Neenan |