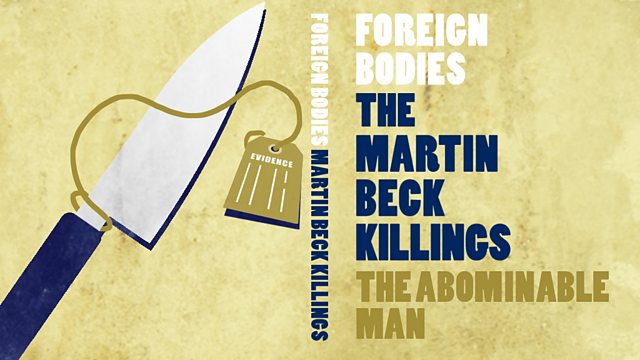 By Maj Sjöwall & Per Wahlöö
Translator Thomas Teal
Dramatised by Katie Hims
Steven Mackintosh and Neil Pearson return as Martin Beck and Lennart Kollberg in the Swedish detective series that inspired a generation of crime writers.
In The Abominable Man, Martin Beck is called in to work in the middle of the night to see the butchered body of a senior policeman. He begins to investigate, dogged by a sense that catastrophe is imminent and once again, his instinct is correct.
Original music by Elizabeth Purnell
Directed by Mary Peate
Studio Managers: Caleb Knightley; Graham Harper, Mike Etherden; Martha Littlehailes; Alison Craig
Production Coordinators: Jenny Mendez and Hannah Robins.
Last on
Credits
| Role | Contributor |
| --- | --- |
| Writer | Maj Sjowall |
| Writer | Per Wahloo |
| Adaptor | Katie Hims |
| Narrator | Lesley Sharp |
| Narrator | Nicholas Gleaves |
| Martin Beck | Steven Mackintosh |
| Lennart Kollberg | Neil Pearson |
| Gunvald Larsson | Ralph Ineson |
| Einar Ronn | Wayne Foskett |
| Frederik Melander | Adrian Scarborough |
| Malm | Nicholas Murchie |
| Hult | Sean Baker |
| Mrs Nyman | Christine Absalom |
| Stefan Nyman | Matthew Watson |
| Bodil | Greta Dudgeon |
| Mrs Eriksson | Dinah Stabb |
| Mr Eriksson | John Rowe |
| Kvant | Sam Alexander |
| Kristiansson | Don Gilet |
| The Rump | Robert Blythe |
| Doctor | Michael Shelford |
| Bohlin | Rick Warden |
| Man 1 | Ben Crowe |
| Man 2 | David Seddon |
| Woman in the Records Department | Joanna Brookes |
| Official 1 | Paul Stonehouse |
| Composer | Elizabeth Purnell |
| Director | Mary Peate |
| Producer | Mary Peate |