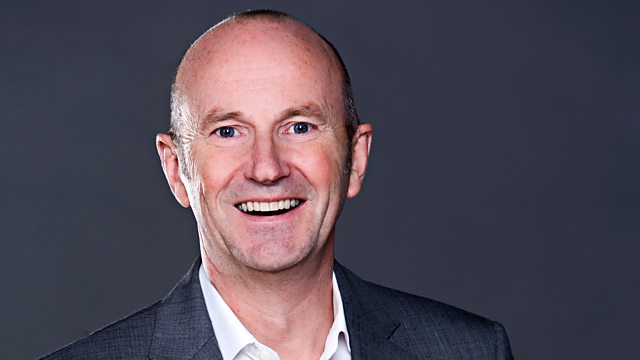 25/07/2013
It's what you're talking about before you're talking about it. Join Fred and Co as they try to make some crazy sense out of modern day Scotland.
Last on
Mrs Jones and her fabulous cake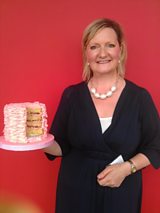 Mrs Jones' Recipe for a 7" round vanilla sponge cake filled with buttercream and jam<?xml:namespace prefix = o ns = "urn:schemas-microsoft-com:office:office" />
Equipment
2 x 18cm (7") round cake tins
Oven thermometer (optional)
Greaseproof paper
Scissors
Weighing scales
Large spoon or spatula
Large mixing bowl
Electric whisk (or food mixer)
Sieve
Oven gloves
Cooling rack
Palette knife
Clingfilm (optional)
Ingredients
175g (6oz) 'Stork for Cakes' margarine, or unsalted butter
175g (6oz) castor sugar
3 medium eggs
175g (6oz) self-raising flour
1 teaspoon (tsp) baking powder
1 teaspoon (tsp) vanilla extract
1.         Make sure that all the ingredients are at room temperature.
2.        Line the sides and base of two 7" round cake tins with baking parchment or greaseproof paper.
3.        Preheat oven to 180C (fan oven)/350F/Gas Mark 4.  (Some ovens can overheat.  An oven thermometer will help ensure that it is at the correct temperature).
4.        Beat the margarine (or butter) and castor sugar together till the mixture is pale, light and fluffy.
5.        Meanwhile, break the eggs into a jug and lightly beat together.
6.        Slowly pour the eggs into mixture, adding a little at a time (roughly one egg at a time).  Whisk well in between. If the mixture begins to curdle (looks like 'baby sick'!), add a heaped teaspoon of the flour.
7.        Whisk in the vanilla extract.
8.        Sift the flour and baking powder into the mixture and, using a large spoon or spatula, gently combine the ingredients together until they are just mixed in and no more.  
9.        Divide the mixture between the cake tins, spreading it out evenly to the sides of the tins with a palette knife, making the sides very slightly higher than the centre.  This prevents the cake being domed in the centre.
10.     Bake in the oven for approximately 20 – 25 minutes till lightly golden in colour, springy to touch and the sides of the cakes are just coming away from the edges of the lining paper.  The baking time may vary depending on your oven.
11.     If you really want to make sure that the cakes are baked through, test the sponges by inserting a skewer or a cocktail stick.  If they come out clean, the cakes are cooked.
12.     Leave the cakes to stand in their tins for 5 minutes before turning them out onto a wire rack
to cool.  Leave the lining paper on the bottom until the cake is cold and ready to be decorated.  It's easier to peel then and won't damage the edges. 
13.     When cold, wrap the cakes in cling film and place them in the fridge until ready to use for up to 72 hours.
Filling the cake
50g unsalted butter
100g icing sugar
1 teaspoon (tsp) vanilla extract                                   
115g raspberry jam
1.        Make sure that all the ingredients are at room temperature.
2.        Beat the buttercream for a couple of minutes till pale and soft.
3.        Sift in icing sugar, add vanilla extract and beat till soft, pale and smooth.
4.        Cover the bowl with cling film till ready to use.
5.        Spread the buttercream evenly onto the flat side of a cooled sponge using a palette knife. 
6.        Gently spread the jam on top of the buttercream using a knife.
7.        Top with the second sponge, flat sides together.  Serve dusted with sifted icing sugar.
MacAulay&Co's Great Kids Bake Off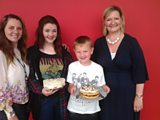 Star bakers, Vicki, Lucy and Dylan Johnston, with Mrs Jones of Mrs Jones cakes.
Cake-tastrophe - a bumpy car journey to the studio!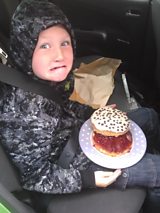 Cake-tastrophe - a bumpy car journey to the studio!  Can Dylan's cake be rescued?!!
3 bakers - 3 decorated Victoria Sponges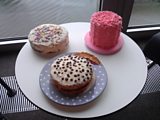 3 bakers - 3 decorated Victoria Sponges