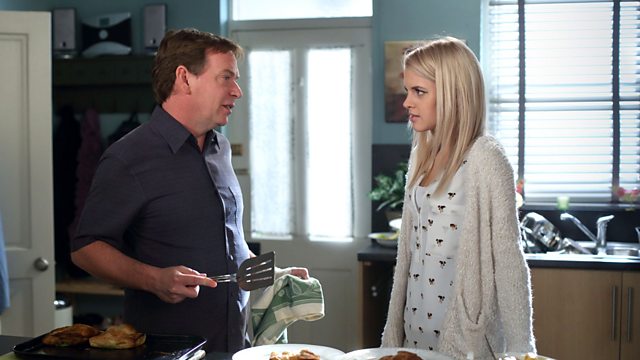 12/07/2013
Peter and Lucy discuss Ian's injury, concerned he's ill again. Peter reveals to his father he knows what's going on; the only way out is to pay Carl back the money but Ian doesn't have it. Ian hosts a family lunch during which he tells Lucy he's being blackmailed and asks to borrow money. Lucy refuses, he needs to sort out his own mistakes, she's not doing it again.
Masood's going to visit Kamil and Carol seems worried he'll forget about her. Bianca's frantic when Liam decides he's not going to court. Shirley assures Liam he can front anyone out - reminding him he made the right choice and didn't mug her. Bianca desperately looks for Liam. Eventually he appears outside with Jack, ready to go. Later the family return from court jubilant; Little Chris withdrew his plea when Liam turned up and Liam didn't have to testify. Masood leaves, assuring Carol he'll be back.
Janine asks Danny to get her non-rent paying tenants out. Michael researches Danny and tells Janine about his redundancy without severance pay and current 'non-job'. Joey and Alice argue about Michael; Joey's forced to allow him to move in after Alice threatens to move out. Danny gets the tenants out of Janine's flat and flirts with her in The Vic.
Abi and Kim lock Patrick and Cora in Jean's shed with a bottle of rum and pack of cards. Realising they've been set up, Patrick and Cora fake an embrace to shock Kim and Abi but when they're alone again Patrick admits he wants to be with her not Betty.
Sam's car part finally arrives. He and Dexter test drive the fixed car. Sam asks Dexter to give him a chance; he offers the car to Dexter - he won't be needing it - and Dexter accepts.
Last on
Credits
| Role | Contributor |
| --- | --- |
| Ian Beale | Adam Woodyatt |
| Lucy Beale | Hetti Bywater |
| Peter Beale | Ben Hardy |
| Bianca Butcher | Patsy Palmer |
| Liam Butcher | James Forde |
| Carol Jackson | Lindsey Coulson |
| Shirley Carter | Linda Henry |
| Janine Butcher | Charlie Brooks |
| Danny Pennant | Gary Lucy |
| Michael Moon | Steve John Shepherd |
| Alice Branning | Jasmyn Banks |
| Joey Branning | David Witts |
| Dexter Hartman | Khali Best |
| Sam James | Cornell S John |
| Patrick Trueman | Rudolph Walker |
| Cora Cross | Ann Mitchell |
| Kim Fox | Tameka Empson |
| Abi Branning | Lorna Fitzgerald |
| Jay Brown | Jamie Borthwick |
| Masood Ahmed | Nitin Ganatra |
| Jack Branning | Scott Maslen |
| Denise Fox | Diane Parish |
| Phil Mitchell | Steve McFadden |
| Tiffany Butcher | Maisie Smith |
| Betty | Tessa Wyatt |
| Executive Producer | Lorraine Newman |
| Director | Michael Owen Morris |
| Writer | Rob Gittins |