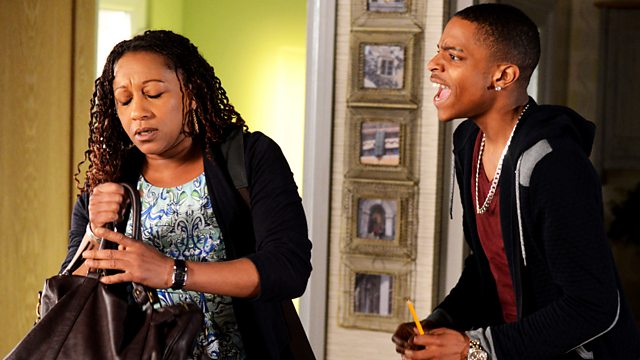 08/07/2013
A furious Dexter interrogates his mum, desperate to understand why she's taken Sam back. Ava tries to reassure Dexter but refuses to end it. Dexter realises Cora knew, she advises him to give Sam a chance. Phil tries to calms Dexter down while his friends attempt to convince him to accept his father. Ava tells Sam to take it slowly. Dexter agrees to hear Sam out and things appear to be resolved until Dexter overhears Sam saying he can handle him. Dexter gives Ava an ultimatum – Sam goes by tomorrow or he does.
Ian's determined to deal with the restaurant damage himself and is agitated when Peter tells him the police are on their way. Peter suspects Whitney and gives the police her name and Jean's. Peter's bemused when Ian insists he doesn't want an investigation. Ian eventually admits to Peter he's being blackmailed by Carl.
Bianca's panicking she'll go back to prison; when Peter asks if Whitney was with her last night Bianca says yes then backtracks. A distraught Jean doesn't think she can lie to the police but Bianca begs her to. Bianca rushes home to find Whitney being interviewed. She explains she was in town last night. Bianca feels guilty when Whitney confides that the police don't believe her and worries about an exam she's taking that evening. Peter arrives and a fight nearly breaks out. Bianca admits to Whitney that it was her, Shirley and Jean. Later they discover Ian's dropped the case.
Kirsty attempts to talk to Max and then Abi but neither are interested. Carl says he wants to help but Kirsty insists she and Max will get back together. Max asks Kirsty for her ring back.
Joey's furious when Michael persuades Alice to apologise to Janine and get her job back.
Last on
Credits
| Role | Contributor |
| --- | --- |
| Dexter Hartman | Khali Best |
| Sam James | Cornell S John |
| Ava Hartman | Clare Perkins |
| Ian Beale | Adam Woodyatt |
| Peter Beale | Ben Hardy |
| Lucy Beale | Hetti Bywater |
| Whitney Dean | Shona McGarty |
| Tyler Moon | Tony Discipline |
| Bianca Butcher | Patsy Palmer |
| Shirley Carter | Linda Henry |
| Jean Slater | Gillian Wright |
| Kirsty Branning | Kierston Wareing |
| Max Branning | Jake Wood |
| Abi Branning | Lorna Fitzgerald |
| Cora Cross | Ann Mitchell |
| Phil Mitchell | Steve McFadden |
| Jay Brown | Jamie Borthwick |
| Lola Pearce | Danielle Harold |
| Joey Branning | David Witts |
| Alice Branning | Jasmyn Banks |
| Michael Moon | Steve John Shepherd |
| Janine Butcher | Charlie Brooks |
| Kat Moon | Jessie Wallace |
| Carl White | Daniel Coonan |
| PC Bansal | Gary Pillai |
| Executive Producer | Lorraine Newman |
| Director | Michael Owen Morris |
| Writer | Rebecca Wojciechowski |