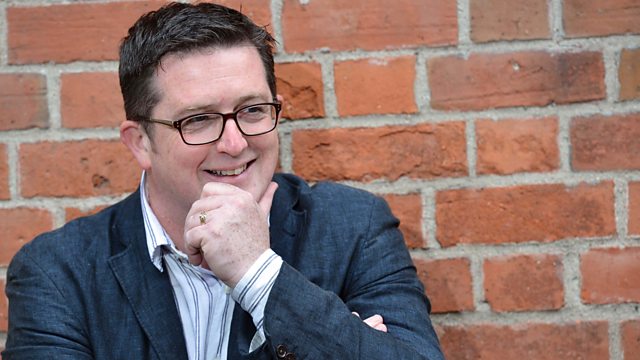 06/07/2013
Kim Lenaghan looks at health, relationships, hobbies and family, with great music and chat, big interviews, fascinating people and great craic, plus recipes from Paula McIntyre.
Last on
Spanish Tortilla with Grilled Avocado, Iberico Ham and Piquillo Pepper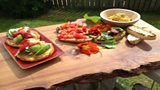 Spanish Tortilla with Grilled Avocado, Iberico Ham and Piquillo Pepper
250g peeled potatoes
1 onion, peeled
4 eggs
1/2 teaspoon salt
Pinch baking powder
3 tablespoons olive oil
Slice the potatoes as thinly as you can. Slice the onions.
Heat up half the oil in a large frying pan until hot.
Add the potatoes and onions and cook until golden and soft over a medium heat, turning occasionally - will take about 15 minutes.
Cool.
Whisk up the eggs, season with the salt and add the baking powder.
Add the potato mixture and mix well.
Heat the frying pan with the remaining oil (or use small individual pans).
Add the egg and potato mixture and turn the heat down low and let the mixture cook gently until the mixture has set.
Place a plate on top of the pan, and then slide back into the pan to cook for 5 minutes on the other side. Small pans will take less to cook and are easier to flip.
The whole process takes about 25 minutes.
Turn onto a plate and slice. It's great cold too.
2 avocados
4 piquillo peppers, sliced
4 slices iberico ham
1 red onion, finely sliced
1 tablespoon sherry vinegar
Olive oil
Peel the avocados, remove stone and cut in quarters. Brush with oil and cook on a hot griddle.
Place on tortilla, scatter over the onions, piquillos, and drizzle with vinegar and oil.
Drape over the ham and serve.
Grilled Bread with Broad Bean Purée and Chorizo
1 baguette, sliced
250 g shelled broad beans
2 tablespoons olive oil plus 50ml more
2 cloves garlic, finely sliced
1 teaspoon sweet smoked paprika
Handful basil leaves
Zest juice 1 lemon
1 chorizo, sliced
Boil the beans for 5 minutes and drain and cool.
Heat the 2 tablespoons of oil in a pan and add the garlic. Cook until golden and add to the smoked paprika. Add to the beans.
Blend with the remaining oil, lemon zest and juice and basil.
Check for seasoning.
Grill the bread. 
Fry the chorizo in a teaspoon of oil.
Top the grilled bread with the purée, some chorizo and a drizzle of the oil and a ripped basil leaf.
Tomato Bread 
1 baguette, sliced
1 clove garlic, cut in half
4 ripe tomatoes, chopped
1 teaspoon sea salt
Olive oil for drizzling
Mix the tomatoes with the salt.
Grill the bread and rub with the garlic while warm.
Top with the tomatoes and drizzle with oil.