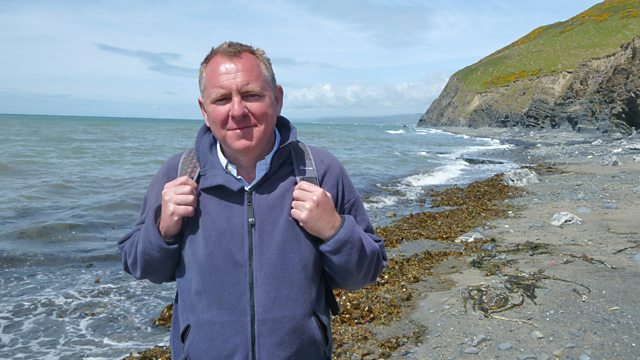 Episode 2: Borth to Aberystwyth
Jamie Owen explores the people and places of our historic nation. Jamie Owen tackles one of the most challenging parts of the Wales Coast Path, from Borth to Aberystwyth.
Last on
Jamie's Blog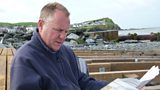 Jamie Owen walks the length of the Wales coastal path as his series continues on Radio Wales (Saturdays at 1 PM, repeated Sundays 5 PM). In his blogs he shares his experiences along the way, and tells us what we can expect to hear in the programme.
Borth to Aberystwyth 
One of the joys of these adventures is that I get to explore places in Wales I've never been before. I've been to Borth and Aberystwyth over the years but I have never walked between them on the All Wales Coast Path – now I'm going to change that.
If you don't know Borth it is best described as a long strip of B & B's, cafes and small hotels. Once it was a busy fishing village, these days its business is pure hedonism – bucket and spade holidays on the beach. Many of the houses you can see from the sand are second homes.
Walkers always make time for a chat and you get to learn so much about a community from listening to people you meet along the way. Ray was on the beach bright and early and told me about growing up here as a little boy in the 1950s. In an age long before sports stars jetted off to warmer climes for their training camps, West Brom 'A' team and Wolves footballers would come here to train on the beach.
The optimism of the great British public knows no bounds and even early in the morning on an overcast day they are walking gingerly over the pebbles carrying windbreaks, picnic baskets and small children. On a dry day, even with all the digital wizardry in the world, nothing quite beats standing in a rock pool with your fishing net looking for crabs.
There's no standing about for me on Borth beach, my route leads away from the shore at Borth uphill past large houses hunkered into the cliffs sheltering from the full blast of the Irish Sea. But this morning, the weather is gentle and blue skies start to smile down on a cliff top punctuated with gorse, pink campions and and bluebells.
You meet an eclectic bunch walking along the all Wales Coast Path. You expect to bump into birdwatchers, ramblers and hikers, but you also meet some truly unusual sorts too. I have talked to war-time evacuees, scientists carrying out research and the Germans. I am heading to a University town today so I guess I shouldn't be surprised that every nationality on earth is out enjoying the unfamiliar fine Welsh weather. But after my fifth conversation with a passing German walker, I was beginning to wonder if someone was pulling my leg. The truth is back in Germany – a country obsessed with walking  - Germans have been reading all about our shiny new all Wales Coast Path in their walking magazines and websites and they have come here in their droves to tick it off their list of Great European Walks.
Halfway along my walk at mid-day I dropped down the side of the valley to see an old house staring out to sea at the water's edge and a distant man walking behind his lawnmower cutting his grass. Jack Evershed still sleeps in the bedroom he grew up in. His house and farm must occupy one of the most enviable positions on the Welsh coast. We sat in his garden and drank tea to fortify me before the last few miles of my journey. There is something delightful on a summer's day about the heady mixture of freshly cut grass and two-stroke engine oil.
Jamie Owen's Wales - BBC Radio Wales Saturday 1 PM, repeated Sunday 5 PM & online after for seven days.
Jamie's Second Blog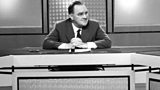 Jamie didn't know Gwyn Thomas