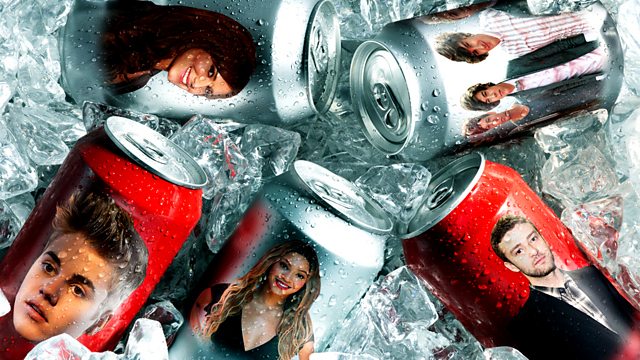 Selling Out?
Musicians and the commercial world have traditionally kept out of each other's way, but in the last few years artists have begun closely collaborating with companies and advertisers to promote brands. The latest high profile examples are Beyonce's multi-million dollar campaigns for Pepsi and H&M, but everyone in pop, rap and rock is at it: whether it's a product placement for Samsung in The Wanted's video; Professor Green being an ambassador for Puma and Relentless; or Rihanna's work creating a range of clothes for River Island.
Is 'branded content' a new opportunity for some exciting collaborations and creativity? Or, as artists increasingly name check brands and companies in their lyrics, will playing an album become more like listening to a commercial break? If a musician has a large fanbase, is that something they can now give advertisers access to, for a price?
In Selling Out? Greg James discovers why the industry is now much more accepting of commercial partnerships. Tinie Tempah's manager Dumi Oburota explains why not all associations with brands are for payment and Universal Music explain how technology has changed the relationship artists have with their fans and why collaborations are now much more acceptable.
We hear how, in the hip-hop world, a brand tie-in isn't always a sign of selling out, but of having made the grade, and our marketing expert reveals what makes a campaign like the one by mobile company O2 a success.
Not all relationships are good however; Peter Robinson of Popjustice picks out some bad examples of product placement from Pitbull and Jennifer Lopez. He also talks about uncovering a plan for a band that was a created purely as an advert for a product and looks at Alexandra Burke's work for Argos.
And Greg tries to find out which brands would be interested in working with him if he was to collaborate with a sponsor - and how much he could earn!
Last on