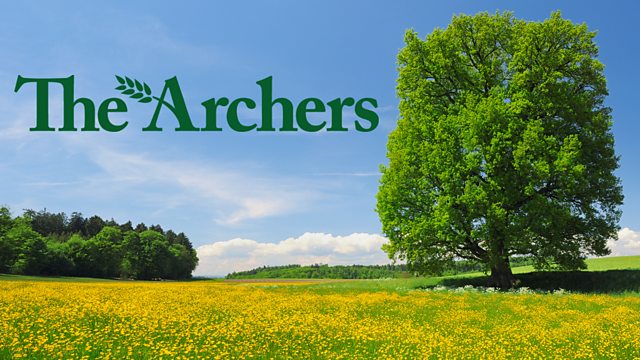 12/07/2013
Pat and Tony are discussing their difficultly in adjusting to having a farm without cows, when Rob arrives with some thank-you flowers for Pat. She is keen to get rid of Rob, but Tony offers to show him how the wetland system will work without cows.
Tony thinks Pat should be careful with her comments about Rob, as Helen has taken a shine to him. He feels Pat should make an effort for her daughter's sake as Helen doesn't make friends easily.
Mike is worried about Brenda and how quickly she's given up her relationship and her job. A quick phone call from Brenda reveals she is in London, but she doesn't have time to say why before she loses signal.
Brenda eventually returns with big news. She has taken a job with Matt and will be working in Russia for a few weeks. She has been in London organising her visa with the Embassy. She needs Vicky and Mike to keep her news a secret, though, as there is something strange going on between Lilian and Matt. Lilian mustn't find out about Matt's side project, so Brenda suggests Mike and Vicky say she has gone travelling with an old friend from university.
Last on
Credits
| Role | Contributor |
| --- | --- |
| Writer | Joanna Toye |
| Director | Kim Greengrass |
| Editor | Vanessa Whitburn |
| Kenton Archer | Richard Attlee |
| David Archer | Tim Bentinck |
| Josh Archer | Cian Cheesbrough |
| Elizabeth Pargetter | Alison Dowling |
| Freddie Pargetter | Jack Firth |
| Tony Archer | Colin Skipp |
| Pat Archer | Patricia Gallimore |
| Helen Archer | Louiza Patikas |
| Tom Archer | Tom Graham |
| Brian Aldridge | Charles Collingwood |
| Jennifer Aldridge | Angela Piper |
| Lilian Bellamy | Sunny Ormonde |
| Jolene Perks | Buffy Davis |
| Nic Grundy | Becky Wright |
| Emma Grundy | Emerald O'Hanrahan |
| Susan Carter | Charlotte Martin |
| Mike Tucker | Terry Molloy |
| Vicky Tucker | Rachel Atkins |
| Phoebe Aldridge | Lucy Morris |
| Brenda Tucker | Amy Shindler |
| Oliver Sterling | Michael Cochrane |
| Caroline Sterling | Sara Coward |
| Lynda Snell | Carole Boyd |
| Rob Titchener | Timothy Watson |
| PA Announcer | Robert Harper |