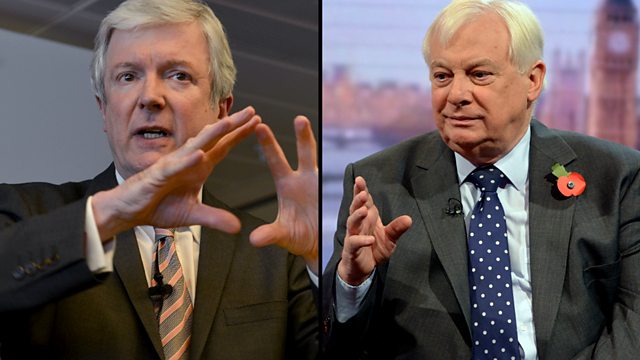 BBC Called to Account
Listen in pop-out player
This afternoon, the BBC's Chairman and Director General are before the MPs on the Public Accounts Committee. Lord Patten and Lord Hall are answering questions about the size of compensation payments made to senior executives who left the BBC in the last few years, some of them greater than contractually allowed. Tara Conlan reports from the hearing - she is a long term BBC watcher in her role at the Guardian. One of the questions raised by the National Audit Office report into the payments relates to the BBC Trust and whether it can adequately supervise or inspect the BBC board decisions. Tim Suter, a founding partner of Ofcom and Claire Enders of Enders Analysis discuss what changes need to be made to the way the BBC is governed, if any, in the interests of licence payers.
Brian Cathcart is a founder of the Hacked Off campaign. He responds to the announcement this week of plans for a replacement to the Press Complaints Commission, proposed by the industry. These plans are linked to the so-called Rival Royal Charter which the industry has put forward and is being considered by the Privy Council today.
And what impact might the secret recording of his meeting at The Sun have on Rupert Murdoch? The Commons Media Select Committee has invited him to return to explain his comments, which relate to a range of controversial subjects including the extent to which Fleet Street paid police for information. Claire Enders and Brian Cathcart are joined by Peter Preston, former Guardian editor.
Presenter: Steve Hewlett
Producer: Simon Tillotson
Editor: Andy Smith.
Last on