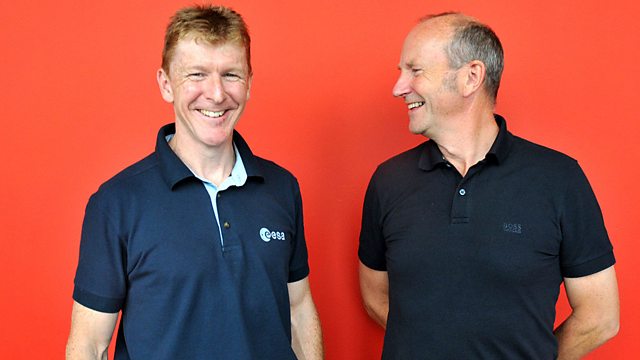 16/07/2013
Join Fred on MacAulay & Co
Kerry Katona has filed for bankruptcy for the second time in five years. We find out what the consequences are on a personal and professional level from someone who's been there, Nev Wilshire of BBC's documentary, The Call Centre and lawyer Angela McCracken.
The UK's first ever astronaut steps not just into space - but into PQ3 with Fred. Tim Peake tells us how his training schedule is going for his six month mission in 2015.
Chris O'Dowd, of The IT Crowd and Bridesmaids fame - and star of BBC1's new Family Tree drops in for a chat.
Chef Jak O'Donnell dishes up another of her 'Great Things'. Can your method and recipe beat Jaq's?
And this weekend Perth hosts the sixth Southern Fried Food Festival. Culinary Consultant Peggy Brunache from the Festival brings us a taste of her special Southern dishes...
Last on
Fred meets Tim Peake and hears about the UK Space Conference
Listener Question Tuesday 16th July 2013…
What did your Granny and Grandpa do? And what did you call them?
Jean Milne from Turriff in Aberdeenshire says her 2 Grandsons call her Deedle Dee – she always says deedle dee when holding babies and the boys picked up on it. They're now 5 & 7. They live in London and love their Deedle Dee.
Daryl Ayres in Paisley. My granddad George William Ayres was a wheel wright - born in 1911 made wheels for horse drawn carriages and carts, my dad now has all his tools, kept in granddads "apprentice piece" tool chest.
Irene Crawford born Glasgow, now living in Edinburgh.  My grandfather was a Master Cabinet Maker and helped build the "Golden Divans" in the old Green's Playhouse in Glasgow.
Mrs Phyllis warner Bo'ness My great grandfather on my grandfather's side was a clay pipe maker in Ireland, my great grandfather on my Grandmothers side was a cotton spinner in Paisley.
Kate Love's  great grandma was a candlemaker in candlemaker row in Edinburgh.
Darren from Hamilton My grandad George was a glass blower in Newcastle.
Barbara Fitzgerald's grandfather, James Ritchie, is the longest serving grounds-man Hampton Park has ever had.
Chris-  My 4 times Great Grandfather Duncan MacGlashan was a 'COWFEEDER' in Loch Fyne.
Hamish- my grandfathers a squadron leader with 617 squadron the dam busters during ww2.
Brian in Glasgow. My Grandad was a gunner in a Tank regiment. Wounded at El Alemein then a Tram driver. My Nana was a housewife.
Dave Currie in Inverkip- My great-grandfather (Andrew Harvey – my Dad's Mum's Dad) and my great-uncle (Frank Harvey) went out to India in the 1870s and set up a series of cotton spinning mills in Madras, the largest of which was the Madura Mills which was the largest cotton spinning mill in Asia (and possibly the world at the time). The power for the mill was generated by a turbine that Andrew and Frank installed in a large waterfall beside the mill and it became one of the earliest hydro-electric systems before hydro-electric was even thought of as a viable power system. Madura Mills were eventually merged with Coats and became Coats Madura. I don't know what happened to the family fortune, but I haven't found it yet.
Rod- My maternal grandfather, whose name was Macaulay, was a Lighthouse Keeper.
Peggy Brunache's Southern Fried cola cake
Coca cola cake<?xml:namespace prefix = o ns = "urn:schemas-microsoft-com:office:office" />
Ingredients
250g Coca-Cola
125g  buttermilk
226 g butter, softened
 350g caster  sugar
2  large eggs, lightly beaten
2  teaspoons  vanilla extract
250g self-raising flour
40-45g cocoa
1 teaspoon  baking soda
75g miniature marshmallows

 

Coca-Cola Frosting

 

Garnish: 3/4 cup chopped pecans, toasted
Preparation
Preheat oven to 180 Celsius.
Combine Coca-Cola and buttermilk; set aside.
Beat butter at low speed with an electric mixer until creamy. Gradually add sugar; beat until blended. Add egg and vanilla; beat at low speed until blended.
Combine flour, cocoa, and baking soda. Add to butter mixture alternately with cola mixture; continue with flour mixture. Beat at low speed just until blended.
Stir in marshmallows. Pour batter into a greased and floured 13- x 9-inch pan. Bake at for 30 to 35 minutes or check by inserting a toothpick. If the toothpick  comes wet, bake longer. Toothpick into the warm, moist cake may come out sticky, which is fine. But it should not be wet like mud.
Once done, remove from oven; cool 10-15 minutes. Pour Coca-Cola frosting over warm cake; garnish, if desired.
Note: Don't make the frosting ahead--you need to pour it over the cake shortly after baking.

Coca-Cola Frosting
Ingredients
114g butter
80g Coca-Cola
3  tablespoons  cocoa
250g powdered sugar
1 tablespoon vanilla extract
Preparation
Bring first 3 ingredients to a boil in a large saucepan over medium heat, stirring until butter melts. Remove from heat; whisk in sugar and vanilla.
Peggy's Southern Fried Festival Arkansas Caviar
Arkansas Caviar<?xml:namespace prefix = o ns = "urn:schemas-microsoft-com:office:office" />
5 strips streaky bacon
1 can of black-eyed peas drained and rinsed
1 medium tomato diced
½ green bell pepper, seeded and diced
1 jalapeno pepper, seeded and diced
2 tabs chopped fresh parsley leaves
3 tabs olive oil
1 tabs of balsamic vinegar
2 teas Worcestershire sauce
1 teas of chopped fresh or dried oregano
Salt and black pepper to taste
Fry bacon until crisp. Crumble strips.
In a bowl, combine all other ingredients with crumbled bacon. Chill for 1 hour.
Chef Jak O'Donnell's Healthy option Fish (with no chips)
100gr dry polenta<?xml:namespace prefix = o ns = "urn:schemas-microsoft-com:office:office" />
1 egg white
Salt & pepper
Fish of your choice
Summer Harvest rapeseed oil in spray
For dressing
2 tbs mayo
2 creme fraiche
1 tbsp chopped chives and parsley
1 tbsp lemon Juice and zest
Cut your fish into the size you are after
Dip the fish into egg white then into the dry seasoned polenta grains
Spray with rapeseed oil and bake for 10-12 min in hot oven 180c
Mix mayo and creme fraiche with lemon And herbs
Serve immediately