Composer Debbie Wiseman and Gryff Rhys Jones's Inheritance Tracks
Sian Williams and Richard Coles with film and television composer Debbie Wiseman and the Inheritance Tracks of Griff Rhys Jones. John McCarthy meets co-operative walkers in the Lake District, twins Marcus and Alex Lewis reveal the effect of an abusive upbringing on their memories, Rosa Rebecka relates the appeal of a hand-me-down guitar and John Viney tells what it's like to be a mystery shopper. As usual there are the thank you messages of listeners this week with a haggis flavoured anecdote.
Last on
STUDIO GUEST :: DEBBIE WISEMAN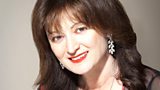 Composer Debbie Wiseman who has written scores of themes for film, television and concert hall talks to Richard and Sian about  the business of bringing drama to life.
INHERITANCE TRACKS :: GRIFF RHYS JONES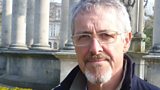 Griff Rhys Jones chooses On The Street Where You Live from My Fair Lady as the song he has inherited and Bold as Love by Jimi Hendrix as the track he'd like to pass on to future generations.
You can watch Griff Rhys Jones in Burma, My Father and the Forgotten Army on Sunday 7th July on BBC Two at 9pm.
MY TWIN REBUILT MY MEMORY :: ALEX AND MARCUS LEWIS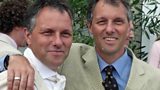 Identical twins Alex and Marcus Lewis, tell the extraordinary story of their upbringing;  a shared history about which Alex can remember nothing of, following a motorbike crash when he was 18. All he knew of his childhood was what his brother Marcus had told him – but Marcus didn't tell the whole truth.  The full story of their childhood was much, much darker.  Alex was interviewed on Saturday Live in 2010 and the twins have now written a book about their experiences. 
MYSTERY SHOPPER :: JOHN VINEY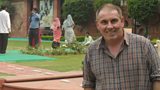 Window cleaner John Viney has spent the last 10 years jetting around the world, staying in five star hotels and visiting super-car showrooms as a myster shopper.  He joins Sian and Richard to talk about his double life.
TRAVEL :: JOHN MCCARTHY IN THE LAKE DISTRICT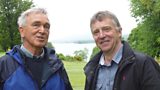 John McCarthy talks to David Brown and Laura Sims of HF Holidays about walking in the Lake District and to some of the hikers in the Langdale Valley.
THE THING ABOUT ME :: GUITAR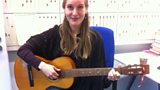 Singer/songwriter Rosa Rebecka tells us about the guitar that has been played by the women in her family for four generations.  
STUDIO PHOTO :: RICHARD, DEBBIE WISEMAN, JOHN VINEY, SIAN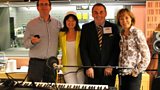 BLOG :: RICHARD'S CIRCUS OF LIFE
They say that things come in threes and I have often found this to be the case – buses, persons of the Holy Trinity, recessions – but I've had a trio I've never had before just lately and I can't think for the life of me why. My parish, Finedon, is a very ordinary sort of place, four and half thousand souls where the A6 the A45 and the A14 nearly meet, a patch of old England between the warehouses and depots of the East Midlands infrastructure. Every town has its more exotic inhabitants but over the past three months I've conducted the funeral of three parishioners from the further reaches of show business. Today we say farewell to Sylv, a lovely funny and acute lady who was the daughter, I discovered only this week, of the great Curly Wilberforce the Fire-eater, of Jamaica and Barry Island, who retired to Finedon. Last month we said farewell to Connie, who was the glamorous assistant to a knife thrower and sword swallower, and the month before that it was Cyril, who used to be able to balance just about anything on his chin. At the funeral his grandson remembered being hoisted aloft in an armchair and paraded around the stage of the Wheel Tappers and Shunters Social Club for the benefit of ITV. Why they should have chosen Finedon for their retirements I don't really know - we're not on the showbusiness circuit, although there are quite a few Show People, travellers involved in the fairground trade, who have traditionally wintered round here. Until not very long ago you could see elephants walking the misty lanes around Polebrook, one of the prettiest villages in the county, belonging to a circus that quartered their beasts there for the low season.
In my first parish, Boston in Lincolnshire, there were a lot of Show People too and I once was Deputy Chaplain to their Guild Dinner in the town which coincided with our May Fair, in existence for nearly nine hundred years. It began with a short service held on a carousel in which we had to sing God Be With You Till We Meet Again going round and round on fairground horses, the Mayor, a lugubrious man of considerable stature, hanging on to his tricorn hat before taking to the dodgems with the Chief Inspector from the Police Station, a cue for all the town's ne'er-do-wells to jump on and spend a pleasant five minutes tail-ending the forces of authority.
You wonder how long these little subcultures in our national life will endure? It would be easy perhaps to sentimentalise and idealise them, but there is something about their grain which adds to the gaiety of the nation and it would be great to capture them before the finally disappear into the creeping homogeneity of everything. Sounds like something for Saturday Live, which will attempt this week to rescue from the creeping tide of homogeneity the composer Debbie Wiseman, a haggis and a guitar.
Join us at 9 o'clock on Saturday morning, BBC Radio 4.
Credits
| Role | Contributor |
| --- | --- |
| Presenter | Sian Williams |
| Presenter | Richard Coles |
| Producer | Harry Parker |
| Interviewer | John McCarthy |
| Interviewed Guest | Debbie Wiseman |
| Interviewed Guest | Marcus Lewis |
| Interviewed Guest | Alex Lewis |
| Interviewed Guest | Rosa Rebecka |
| Interviewed Guest | John Viney |