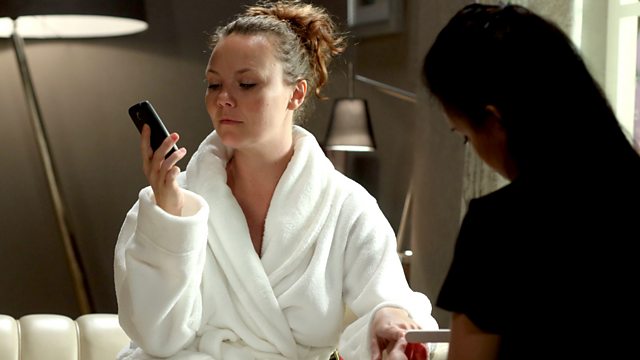 02/07/2013
Alice spies Billy on the phone to Janine, tells Michael. Michael goes to Billy who finally admits (as part of Janine's plan) she's at a posh London hotel. There, she's having a massage and manicure while a nanny looks after the baby but is frustrated when Michael doesn't come after her. Alice warns Michael that Scarlett is getting caught in the middle of his games. Stressed, she nearly steals from the Minute Mart. Billy goes to Janine and just as she says Michael won't see Scarlett again, he turns up. Janine fires Billy. Michael taunts that as they're married, a settlement would give him half of all she owns. He'll wait for Scarlett. He doesn't want her anywhere near the square. Back-footed, Janine calls for her suitcases – she's leaving, we assume, for the Caribbean.
Jean drops a soufflé when Ian winks her encouragement. Kirsty turns down Carl's offer of drinks. Carl turns up at the restaurant, expecting an instalment from Ian, but settles for a free meal. He orders soufflé. Jean cooks a perfect soufflé. Ian's delighted, but when he says he could kiss Jean, she slaps him in front of Poppy (who's collecting for the church) and Whitney.
Cora reveals to Ava she knows about Sam and tells her to end it or tell Dexter. She suggests she could've done without Ava as a daughter.
Gossip spreads about Kirsty. Fundraising, Dot tells her a good name is worth more than riches but also people have no right to gossip.
Poppy worries to Alice that she might not be cut out for being a manageress. She's fallen out with Lola after telling her to sort out her roots, and Fatboy when she gave him a list of chores after he gifted her a lunchbox with 'manageress' on it.
Last on
Credits
| Role | Contributor |
| --- | --- |
| Janine Butcher | Charlie Brooks |
| Michael Moon | Steve John Shepherd |
| Alice Branning | Jasmyn Banks |
| Billy Mitchell | Perry Fenwick |
| Ava Hartman | Clare Perkins |
| Cora Cross | Ann Mitchell |
| Ian Beale | Adam Woodyatt |
| Jean Slater | Gillian Wright |
| Shirley Carter | Linda Henry |
| Whitney Dean | Shona McGarty |
| Dot Branning | June Brown |
| Poppy Meadow | Rachel Bright |
| Denise Fox | Diane Parish |
| Carl White | Daniel Coonan |
| Kirsty Branning | Kierston Wareing |
| Executive Producer | Lorraine Newman |
| Director | Daniel Wilson |
| Writer | Carey Andrews |