Gressenhall, Norfolk
Peter Gibbs chairs BBC Radio 4's horticultural panel programme from Gressenhall in Norfolk, where he is joined by gardening experts Chris Beardshaw, Matthew Wilson and James Wong who field the questions from gardening enthusiasts.
Produced by Howard Shannon
A Somethin' Else production for BBC Radio 4.
This week's questions:
Q. Why is my rhubarb so spindly?!
A. Rhubarb thrives in quite moisture-retentive soil rich in organic matter, often in semi-shade - clay is the ideal soil-type.
Q. Have the panel ever used historic garden archives for their own needs?
A. What is fascinating about past-practices in gardening is how much it has changed over the years. There are methods from the past that make good sense practically as they were developed before the science and technology of gardening was developed.
Q. Is interest in 'grow your own' fading as a result of this year's bad weather? What crops would the panel suggest to spark continued interest?
A. Sow edibles such as Pak Choi, Chrysanthemum Coronarium, Borage and Wasabi - these will fare better in cool conditions than in full sun. Choose your plants and environments carefully in order to build confidence.
Q. Could the panel suggest hardy plants to give a tropical or exotic feel to my garden?
A. Persicaria Polymorpha is recommended, mixed in with Macleaya Cordata. The combination will offer plenty of growth, exuberance and lavish foliage. One of the compact hardy palms, Chamaerops Humilis, could also be added. Also suggested are Thalictrum 'Black Stockings' and Actaea 'Black Negligee'!
Q. A thirty-fifth wedding anniversary is represented by coral and jade. Which plants on this theme would the panel recommend as an anniversary gift for my wife?
A. Clivia, Clianthus and Kolkwitzia Amabilis 'Pink Cloud' are recommended for their coral-coloured flowers. Tiarella 'Coral', Macleaya Cordata 'Coral Plume', Hemerocallis 'Jade Flutters' and the Jade plant (also known as the 'lucky plant' or 'money plant') are suggested. Finally, the Pink Oyster Mushroom looks just like table coral and can be grown easily.
Q. Should I be concerned about the state of my red and white currant leaves, which look blistered?
A. The sample provided looks like it is infected with blister aphid. However, this is a cosmetic problem and will not affect the health of the plant. If the plant is fruiting well, it is not worth treating.
Q. What is the best soil mix to use for growing a Zantedeschia 'Crowborough' in a terracotta pot?
A. Plenty of moisture and nutrition is needed to grow these plants, and in this country, in a pot, this plant would do best in a frost-free glass house. After New Year's Day (or thereabouts), stand the container in a saucer of water, which will encourage the plant into growth. Once the frosts are over, the pot can be placed outside - in dappled shade ideally. Keep it well fed, with a liquid feed or standard hanging basket compost.
Q. Can the panel tell me why it has taken over 50 years for me to become obsessed with gardening?!
A. It gets to all of us eventually - congratulations on resisting for so long!
Last on
Gressenhall Workhouse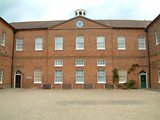 Built in the late 18th century, the Gressenhall Workhouse didn't finally close its doors to local paupers until 1948, just a year after Gardeners' Question Time was born!