On this week's show...

The Belfast Scratch Chorus & Orchestra and The Belfast Bach Consort

Marcus Patton writes:

The Belfast Scratch Chorus & Orchestra was set up in 2006 to see if Gilbert & Sullivan's HMS Pinafore could be rehearsed and performed in one night with a group of singers and players assembled specially for the event. It turned out to be indeed more or less possible, and such fun that the ensemble have met each succeeding summer, working their way through the G&S canon in chronological order and growing in numbers and expertise each time. The Yeomen of the Guard this year was our eighth performance, many of which have been conducted by John Dallas.

 

The point is to enjoy the sheer wit of Gilbert's words and Sullivan's tunes in an atmosphere where there is no audience other than fellow performers. While the soloists and band often include professional musicians, the choir includes some people who are struggling to read the music - but those who can't perform to a high standard are expected to compensate by wearing good costumes and becoming scenery. 

 

Professional musicians usually perform under such pressure to maintain their high standards that they forget that music can be a social event, about exploring repertoire with friends and experiencing the sheer joy of performance, while amateurs often don't have time to develop their technique to the levels they would like. The scratch event brings both together on a level playing field where professionals can let their hair down and amateurs can - for one night - become part of a wonderfully silly and far too ambitious event. 

 

An unexpected extension of the "scratch" idea was the formation of the:

 

Belfast Bach Consort which initially drew on many of the same players and singers to perform the church cantatas of J S Bach. The music is much more serious and the performances are more polished, but the same spirit of adventure applies because each cantata is rehearsed over about two hours with whoever is available on the day, and then performed immediately afterwards as part of a church service. 

 

Bach wrote most of his 200 cantatas on a weekly basis between his many other commitments, and most must have been performed when the ink was barely dry on the pages, by performers who had not seen the music before, so this approach is probably quite authentic. As well as being open to any interested singers, the Consort tries to offer solo opportunities to young singers and instrumentalists, and the high adrenalin approach ensures that the performances are never dull. 

 

The Consort usually performs on the 3rd Sunday of the month as part of the evening service at St Thomas' Church on Eglantine Avenue, Belfast, at 7pm.

 

Further details from Marcus Patton at

mp.hearth@virgin.net

Also in the programme...
Have a look back through the series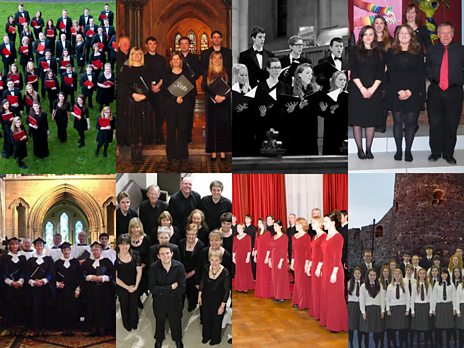 Find out more about the conductors and choirs that John featured.