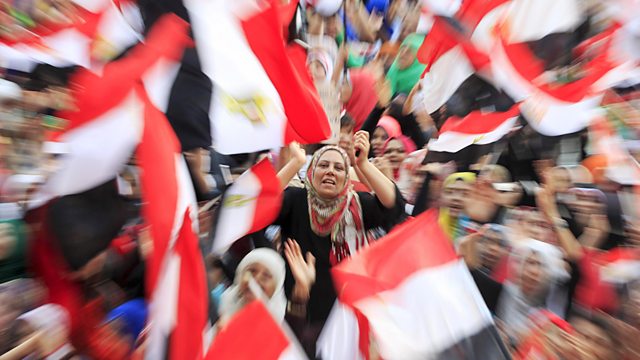 05/07/2013
News and current affairs. Including Sports Desk, Yesterday in Parliament, Weather, Thought for the Day.
Last on
Life Inside 'Islamic State': Diaries
In today's programme
The latest from Egypt. MP's are to debate a referendum on Britain's membership of the European Union before 2017. Plus should you watch Andy Murray at work this afternoon? With Sarah Montague and Evan Davis, and James Naughtie in Cairo..
0900

That's all from us. Our editors today were Lewis James and Briony Harris. Next on BBC Radio 4 is Desert Island Discs.


0856

Egypt's interim president, Adly Mansour, has invited the Muslim Brotherhood to participate in the country's political future a day after the army ousted his predecessor, Mohamed Morsi. The Today programme's James Naughtie is in Cairo, and joining him is the BBC's Middle East editor Jeremy Bowen.

0851

Labour's biggest union backer is claiming it has been the victim of a smear campaign after a row over how the candidate for Falkirk was selected. There have been allegations that the process was hijacked by the Unite union. Ed Miliband's chief election co-ordinator, Tom Watson, has resigned and two party members have been suspended. But the Unite general secretary Len McCluskey said he had "no trust" in the party's handling of the affair. Dan Hodges, the Daily Telegraph commentator and former Labour Party and John Ashworth, Labour MP for Leicester South, whose constituency party has received funding from Unite, debate.


0847

A new online service for depressed teenagers launches today, mindfull.org. It's aimed at 11 to 17 year olds, offering advice, support and the chance to converse with counsellors. The Today programme's Sarah Montague spoke to a young teenager suffering with anxiety, and her mother. Dr Margaret Murphy, chair of the child and adolescent faculty at the Royal College of Psychiatrists, analyses depression in teenagers.
See more live updates