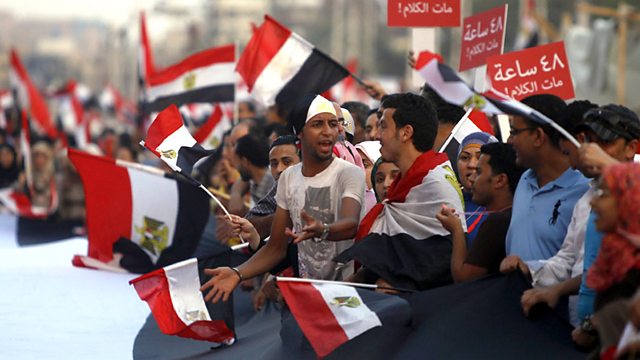 02/07/2013
News and current affairs. Including Sports Desk, Yesterday in Parliament, Weather, Thought for the Day.
Last on
Life Inside 'Islamic State': Diaries
In today's programme
Egyptian President Mohammed Morsi has rejected the army's 48-hour ultimatum to resolve the country's deadly crisis. Edward Snowden is said to have submitted asylum requests to 21 countries and is currently trapped in Moscow and. And what happens when things go wrong on stage at the theatre?
0900

Our editors today were Clare Thorp and Terry O'Neill. Coming up next on Radio 4, Jonathan Freedland presents

The Long View

. Good morning.




0855

Laura Robson was knocked out of Wimbledon yesterday. She revealed that she had not had her mother in the crowd because she may have found it off-putting. Tim Dowling, Guardian journalist, and Anna Watkins, Olympic gold medalist, discuss parental support in sports.




0851

School heads are to be given the power to tamper with school holidays. It's a provision slotted into the government Deregulation Bill by Michael Gove - and it says local council will no longer be able to tell schools when terms start and end. If passed, the new rules will come into effect in the academic year starting in 2015. Sir Mark Grundy, Principal of Collegiate Academy in Sandwell, the West Midlands, and Conservative MP Nick Gibb debate the issue.




0847

A man has been arrested on suspicion of murdering an elderly woman and the attempted murder of a boy at a park. Our reporter Simon Cleminson is following the story.



See more live updates