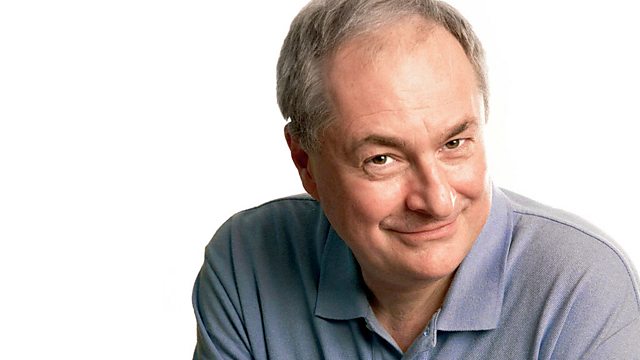 (9/13)
Paul Gambaccini welcomes three more music enthusiasts to the last of the heats in the current Counterpoint series. Taking part, at the BBC Philharmonic's studio at MediaCity in Salford, are contestants from Liverpool, Newcastle and Wombourne in Staffordshire.
Which other female recording artist apart from Adele has won six Grammy awards in a single ceremony? And which controversial classical pianist was the subject of a TV drama featuring Victoria Wood, shown last year?
These and many other questions will be testing the mettle of today's contestants - and they'll also have to pick a specialist musical topic to answer individual questions on, with no advance warning of what the choice of topics will be.
As always, Paul will be providing musical extracts and anecdotes to entertain whatever your taste.
Producer: Paul Bajoria.
Last on
THIS WEEK'S COMPETITORS
DAVID LOVE, a financial planner from Wombourne in Staffordshire;
TONY QUINN, a broadcast engineer from Liverpool;
Revd Canon PETER STRANGE, a clergyman from Newcastle.
MUSIC IN HEAT 9
Round One
Tchaikovsky: Swan Lake, Act III - Spanish Dance
Mahler: Symphony No.4 - 4th movement (Lisa della Casa/Chicago SO/Reiner)
Maurice Jarre: A Passage To India - Main Title (Original film soundtrack)
Knowles/Harrell/Stewart/Nash: 'Single Ladies (Put A Ring On It)' (Beyonce)
Johnny Green: 'Body And Soul' (Coleman Hawkins)
Carl Orff: Schulwerk - 'Rundadinella' (Tolzer Boys' Choir/Orff)
The Double Bass
Mahler: Symphony No.1 - 3rd movement (Royal Concertgebouw/Bernstein)
Dvorak: String Quintet No.2 in G, Op.77 - Scherzo (Gaudier Ensemble)
Saint-Saens: Carnival of the Animals - V. The Elephant (Gabin Lauridon et al)
Disney Time
Harline/Washington: Pinocchio - 'When You Wish Upon A Star' (Cliff Edwards)
Sherman/Sherman: Mary Poppins - 'Supercalifragilisticexpialidocious' (Julie Andrews & Cast)
Menken/Ashman: Beauty And The Beast - 'Be Our Guest' (Jerry Orbach & Chorus)
Abbey Road
Elgar: Pomp & Circumstance March No.4 (BBC Symphony Orch/Elgar)
Roger Waters: 'Money' (Pink Floyd)
John Williams: Raiders Of The Lost Ark - Indiana Jones Theme (City of Prague PO)