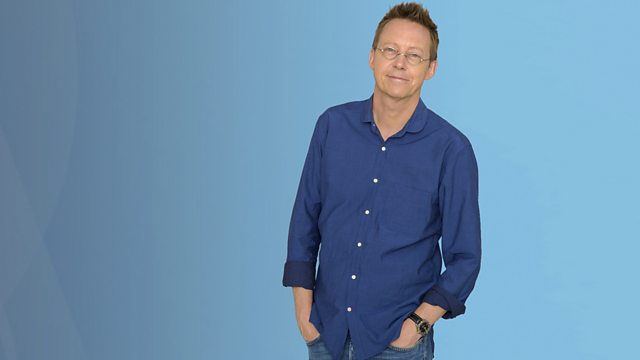 Foodie Thursday
Simon Mayo is joined by our resident Chef, Nigel Barden, for another Foodie Thursday! Plus there's a brand new confession for the team to consider.
Matt has the sport news, Rebecca is on the money and Sally updates the travel.
Last on
NIGEL'S RECIPE: Charred Bacon and Duck Buns
CHARRED BACON & DUCK BUNS
by Jehangir Mehta from Graffiti, New York<?xml:namespace prefix = o ns = "urn:schemas-microsoft-com:office:office" />
Serves 4
Prep time: 15 mins (+2-3hrs braising)
Cooking time: 20 mins
Ingredients
For the Bacon
175g/6oz cured belly pork (a.k.a slab bacon in U.S), or back bacon from the loin.
480 ml/16 fl.oz pineapple juice (2 cups U.S)
1 Jalapeño chilli (can be bought in jars)
Salt, to taste
For the Seared Duck
1 duck breast
Salt & Korean chilli powder to taste (a medium heat powder so sub Jalapeno or Poblano chilli powder, or mix sweet paprika with chilli powder)
For the Chipotle Paste
2 Chipotle chillies (smoked, dried Jalapeno)
4 tbsp whipping cream (a.k.a heavy cream in U.S)
225g/8oz tofu (⅓ cup U.S)
Salt, to taste
4 brioche buns (or use ciabatta, or bao steamed Asian buns)
Method
For the Bacon
1.     Braise the bacon in the pineapple juice with the Jalapeno until soft & tender (2hrs min in a 120C/250F/Gas mark ½ preheated oven, having removed any scum that's risen to the surface after 10 mins cooking.) 
        Add salt as required towards the end of cooking.
        For the Duck
2.     Sprinkle salt on both sides of the duck breast.
3.     Place skin side down first for 15 mins on a medium heat.
4.     Turn over & sear on the other side for 2-3 mins.
5.     Remove from the heat & rest for 10 mins.
6.     Slice the duck thinly.
7.     Sprinkle Korean chili powder & salt to taste.
        For the Paste
8.     Blend the Chipotle chilli, whipping cream, tofu & salt together.
        For the Bun
9.     Cut the brioche in half & chargrill the cut surfaces on a griddle (or in a frying pan, or under a grill).
10.    Fill the bread with the chipotle paste, a slice of the bacon & seared duck. (Nigel briefly chargrilled his sliced bacon before serving).
CUMIN AUBERGINE BUNS                           By Jehangir Mehta
 Serves 2
Prep time: 20 mins
Cooking time: 30 mins
Ingredients
500g/1lb aubergine (2 small or 1 large)
2 garlic cloves, chopped
2 tbsp olive oil
1 Jalapeno chilli, chopped
1 tsp cumin powder
50g/2oz (1 large bunch) coriander, chopped
2 portions brioche or ciabatta buns
Method
1.     Split the aubergine into a half lengthwise.
2.     Poke holes with fork.
3.     Add chopped garlic, olive oil, jalapeno, salt & pepper to aubergine.
4.     Roast in a preheated 180C/350F/Gas mark 4 oven for 20 mins
5.     Add cumin seeds, roast for 10 more mins, or until aubergine becomes fork tender.
6.     Scoop out the flesh using a spoon.
7.     Mix fresh coriander to the aubergine.
8.     Chargrill the brioche on a griddle.
9.     Fill the bread with the aubergine mixture.
Today's Most Popular Tracks
Most added tracks from this show