Barb Jungr, John McCarthy, Otis Williams' Inheritance Tracks
Sian Williams and Richard Coles with singer Barb Jungr, the Inheritance Tracks of Otis Williams the co-founder of Motown wonders the Temptations, a crowdscape from Rochdale, non-operatic sounds from Glyndebourne, a story of survival on a sinking cruise ship, and sussex bats with bat conservationist Jenny Clark. Also, John McCarthy meets a mountain rescue team in the Lake District
Producer: Chris Wilson.
Last on
STUDIO GUEST :: BARB JUNGR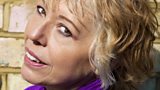 Singer Barb Jungr is renowned for her unique vocal style, interpretation of song and radical approach to arrangements. Her "revelatory" live performances have brought her to audiences all around the world. She's currently touring and has co-adapted Michael Rosen's best selling book 'We're Going on a Bear Hunt' with Peter Glanville and is writing the songs and music for a theatre production based on the children's story.
Hear Barb on Midweek and A Good Read on BBC Radio 4.
INHERITANCE TRACKS :: OTIS WILLIAMS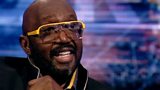 Singer and co-founder of The Temptations Otis Williams chooses Speedo by The Cadillacs as the song he has inherited and What's Going On by Marvin Gaye as the track he'd like to pass on.
Hear Otis on Hard Talk (BBC World Service) and The Craig Charles Funk Show (BBC Radio 2).
SOUND SCULPTURE :: GLYNDEBOURNE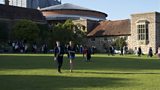 Kevin Martin is the Head Gardener at Glyndebourne. He shares the Soundsculpture of his working day.
Watch Kevin construct a bouquet for the Glyndebourne organ room here.
I WAS THERE :: JUPITER DISASTER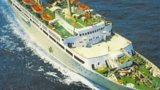 Around four hundred British children were on board the vessel, Jupiter, when it collided with a container ship.  Two crew members, a teacher and a pupil drowned and miraculously the rest survived. The courage of the children was remarkable and twenty five years later, their bravery is still remembered by those who were on board. Sian and Richard talk to teacher Mary Campion and Laura Fitzsimons - one of her 14 year old pupils about their personal experiences that night.
THANK YOU REUNION :: HAGGIS
Last week we heard Brian Liggins thank his old RAF billet-mate Tony Gallo for sending him a haggis in the post.  Brian and Tony haven't been in touch since, but having heard Brian's thank you message Tony emailed the programme asking to surprise his old friend.
BAT WOMAN :: JENNY CLARK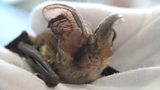 At the time of year when we start to see
bats
flying around in greater numbers, bat conservationist Jenny Clark brings some bats into the studio and talks about why these flying mammals appeal to her so much.
CROWDSCAPE :: ROCHDALE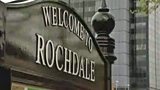 JP Devlin chats to the people in Rochdale town centre.
TRAVEL :: LAKE DISTRICT MOUNTAIN RESCUE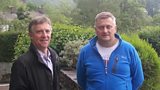 BLOG :: SIAN ON THE OLD JOANNA
We are getting a piano on Saturday. Borrowing it, really, from a friend who is upping sticks and has no room for it in her new home. She is musical, I am not. I did learn piano in my youth, my wonderful Methodist minister grandfather, who played the organ in chapel, spent many patient hours trying to teach me Beethoven, his long, delicate hands dancing across the keys as he smiled beatifically at me - my little stabbing fingers, jabbing at the wrong notes.
My sons learnt, then dropped music when football and homework took up all their time. Now, it's time for the little ones and perhaps me, to have some fun with our new toy and bring music, however toneless, into our home.
Because, I'm a bit embarrassed to say, music has not been a huge part of my life. For Richard, it's meshed within his soul. He plays it, listens to it, it's part of his day job and he can't think of a day without it.  For me, I listen when I run, but otherwise, I grew up listening to and spent much of my early adult  life working on, speech radio, so that's what I reach for. I wonder whether the piano will change that, or whether it'll sit, like an unwanted house guest, at the back of the living room.
I've never been to a music festival either, so all the talk of Glastonbury this weekend leaves me puzzled. I have been to the opera at Glyndebourne though, to see my niece sing and  it was stunning.  We can all be there on Saturday Live, when we'll bring you a finely crafted blast.
Also, Rochdale's finest, singer Barb Junger, will be with us - and we'll be in her home town - and we have the Inheritance Tracks of Otis Williams from the Temptations. Music coming out of our ears - or maybe even staying there.
Hope you can join us at nine.
STUDIO PHOTO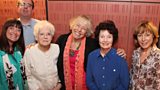 Laura, Richard, Mary, Barb, Jenny and Sian.
Credits
| Role | Contributor |
| --- | --- |
| Presenter | Sian Williams |
| Presenter | Richard Coles |
| Interviewed Guest | Barb Jungr |
| Interviewed Guest | Otis Williams |
| Interviewed Guest | Jenny Clark |
| Producer | Chris Wilson |