Rick Stein's India
Rick Stein sets out on a journey around India to discover the different cuisines celebrated the world over.
More Rick Stein's India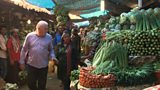 Eight more short episodes of Rick Stein's India were broadcast on the Red Button and are available here to watch.
Paneer jalfrezi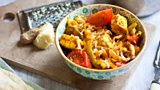 Have a go at Rick Stein's vegetarian curry with Indian cheese, tomatoes and peppers - essentially an easy Indian stir-fry that takes less than 30 minutes.
Find out how to make paneer jalfrezi