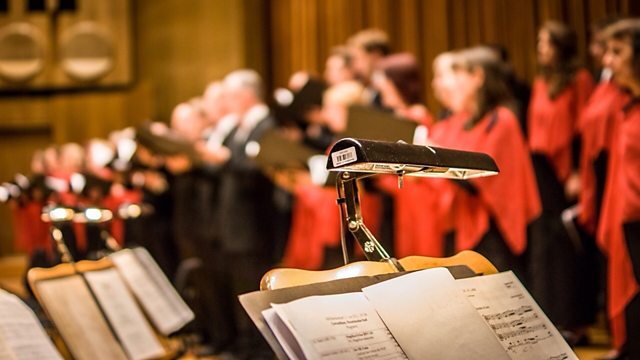 23/06/2013
John Anderson goes behind the scenes to meet the people and the singers who give Northern Ireland its great choral tradition and worldwide reputation.
Last on
On this week's show . . .
...there is more great music from our top choirs and ensembles in a celebration of all things sung and all things choral.  For such a small country Northern Ireland has an amazingly rich culture in choral music.   John Anderson goes behind the scenes to meet the people and the singers who give Northern Ireland its great choral tradition and world-wide reputation. 
A Choral Workshop...
...given by Eamonn Dougan and Sally Dunkley (members of the world renowned choir, Harry Christopher's Sixteen).  This well attended event was enthusiastically received by a large number of singers, choir directors and conductors who thoroughly enjoyed sharing the expertise and experiences of these two most distinguished visitors.  The idea and the workshop was initiated by one of Northern Ireland's leading choirs, Cappella Caeciliana, who also feature in the programme.
Cappella Caeciliana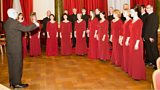 Capella Caeciliana is one of Northern Ireland's leading chamber choirs and specialises in singing sacred music, in both concert and liturgical settings.  It has been led by Donal McCrisken since 1999, and performances have included choral masterworks such as Vivaldi's Gloria and Fauré's Requiem.  The choir's repertoire includes a very wide range of a cappella music from plainchant right through to contemporary composers such as John Tavener and Eric Whitacre.


Cappella Caeciliana has toured in Germany, Austria, Switzerland, Rome and the USA.  Closer to home, it has performed with the Ulster Orchestra and in 2011 it backed the world renowned ballet dancer Carlos Acosta at the Belfast Festival at Queens.  It played a leading part in Belfast's musical commemorations of the Titanic centenary in 2012.  The choir has taken part in masterclasses with leading British conductors Stephen Layton and Eamonn Dougan, and counts among its founders all three members of The Priests.


Current plans include a repeat tour to Germany and Austria in July 2013, a fourth CD recording in 2014 and a commission from the renowned composer James MacMillan to mark the choir's 20th anniversary in 2015. 
Grosvenor...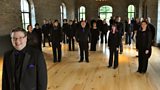 ...an award-winning Belfast choir, who this year celebrate their anniversary, was founded 20 years ago.  At that time, conductor Edward Craig was a pupil at what was then Grosvenor High School. This unique mixed-voice ensemble, numbering approximately 40 singers and an average age of 30, are from a diverse range of backgrounds and mainly hail from the Greater Belfast, South Antrim and North Down areas. Their repertoire is extensive and covers all styles and genres of music, old and new and in a colourful variety of languages. 

The choir is not only about the time spent rehearsing, performing, broadcasting or competing . . . it is also a great social network playing on the strengths of individuals as well as the group.  They actively support local charities throughout the year at their performances and have a loyal group of supporters called the Friends of Grosvenor. 
To celebrate their 20th anniversary they held a recital and dinner at Parliament Buildings, Stormont, and invite you all to join with them at a concert in May Street Presbyterian Church on Saturday 19 October.  They will also be performing as part of the opening ceremony at the World Police and Fire Games in August and an exciting new Music Festival in Saintfield in October.

Conductor Edward Craig writes,
'If you are interested in joining this hard working and committed team, please email us at publicity@grosvenor-ni.org'
The Girls Choir of Methodist College