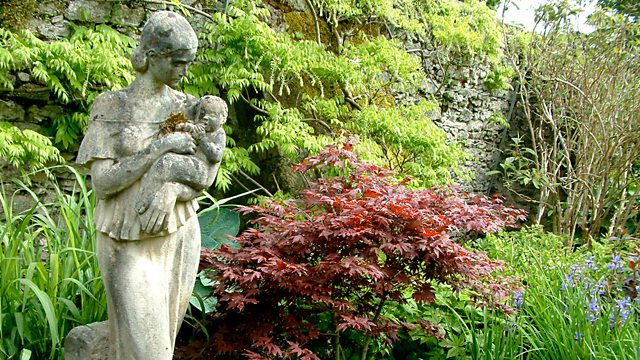 Glenarm Castle
Listen in pop-out player
Chaired by Eric Robson, the GQT team is in Northern Ireland, visiting Glenarm Castle, for this week's episode of Gardeners' Question Time. Taking the audience's questions are Pippa Greenwood, Bob Flowerdew and special guest panellist Reg Maxwell.
Produced by Howard Shannon
A Somethin' Else Production for BBC Radio 4.
Q. How should I treat a Lemon tree that is plagued with scale insect - avoiding pyrethrum?
A. Try dabbing on a mentholated spirit to erode the waxy coating of the scale, which, after repeating, kills the insect. After, wrap the compost and shower the tree, ideally with tepid water, to wash off the scales. Another method is to take a stiff paintbrush and vigorously brush off the insects, this will need to be repeated every couple of weeks. Also, try to ensure ants are not on the plant, as ants will reintroduce the species even after you have cleaned it.
Q. Can Tulips be grown in pots all year round?
A. This is not recommended due to the small soil volume and root growth in pots meaning the bulbs may degenerate. It is best to feed the Tulip in the ground in the growing season and when the foliage dies down lift them. However, the best way to grow them in pots if necessary would be to treat them as you would in the ground, feeding during the growing season and lifting when the foliage dies down, take the bulbs out, dry them and store until late November, then re-plant into pots again. Additionally, bone meal is recommended to help Tulip growth.
Q. How do I clear a garden completely full of overgrown weeds including Dandelions and Switchgrass?
A. Avoid rotavating, as this can spread and increase the number of plants. Skim off the top couple of inches of the weeds, stack the off-cuts and cover with a plastic sheet. In approximately 12 months spread this back on the garden. Then dig the land over; a good method is called "bastard trenching" or "double digging".
Q. My blackcurrant and gooseberry bushes in my garden grow vigorously but with very little fruit, why is this?
A. Blackcurrants fruit on the wood that grew a year previously. Therefore hard pruning means you may be at risk of removing the fruiting wood. For blackcurrants it is recommended to remove a third of the bush to the ground every year, always removing the oldest third. Gooseberry bushes are a little more difficult as they grow on spurs, so avoid cutting everything back and focus on removing whole branches. Additionally try to cut down on feeding the bushes, slowing growth and therefore minimising the necessity to prune.
Q. Many evergreen hedges seem to have struggled to survive in the recent cold winters, what other plants could you suggest to replace these so they would cope with the cold conditions?
A. If you want to replace with alternative Evergreens then Yew would be recommended, it can be grown into a hedge and can be trained into many shapes and sizes, other suggestions include Privet, Holly and Laurel. A more unusual choice would be Berberis Darwinii, which has small orange flowers in spring or Sarcococca, which is slow growing but can be used as a hedge. Alternatives to evergreens are Capensis or Beech, as they still have leaves in the winter.
Q. My 20-year-old Portuguese Laurel is threatening to push over a 6ft fence. Can I restrict its exuberance by cutting the offending branches?
A. You can prune Laurels quite severely. It is best to do so in autumn, making sure wounds are clean and the cut is clean to the stem. Avoid having stumps because they will die back. Pippa Greenwood would suggest not painting wounds, allowing them to heal on their own. However Bob Flowerdew recommends sealing the surface of the dead wood in the middle of the wound, whilst avoiding the bark. Alternatively Reg Maxwell would opt to sealing the cambium layer, which is immediately under the bark.
Q. What would be good to plant following early potatoes and peas to keep my plot productive over the winter?
A. Many saladings, including loose-leaf lettuces, small beet, onions and garlic could all be planted in autumn. Leaks can be planted in July and in August Japanese onions would be recommended. Also Rocket, Mizuna, Pak Choi and Mooli are great alternatives.
Produced by Howard Shannon
A Somethin' Else production for BBC Radio 4.
Last on
The Giant Daffodil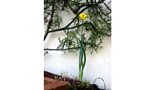 One GQT listener has an impressive 33-inch (84cm) daffodil in her garden that returns year after year.