Claire Messud, Progress, Phil Spector, Joshua Oppenheimer
With Anne McElvoy, including an interview with the best-selling american novelist Claire Messud about her latest book The Woman Upstairs featuring a narrator consumed with anger.
The idea of progress, that humanity will enjoy a steady march of improved knowledge and conditions, has become a dominant way of thinking about the future. But despite our general acceptance of the concept, it is a relatively recent development in how we think about human history. David Runciman, Professor of Politics at Cambridge University, Michela Massimi, Senior Lecturer in the Philosophy of Science at Edinburgh University and Matthew Taylor, Chief Executive of the RSA join Anne to examine the genesis of the idea and the extent to which it remains persuasive, despite the setback of the 20th Century.
And Adam Mars Jones reviews a new biopic written and directed by David Mamet in which Al Pacino plays the music producer Phil Spector.
Joshua Oppenheimer reflects on his gripping but chilling documentary The Act Of Killing, which turns the spotlight on an Indonesian genocide that the world forgot. It's retold through the eyes of the killers themselves - who brag about their murderous exploits and even re-enact them.
Last on
Joshua Oppenheimer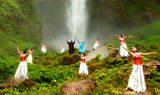 The Act of Killing directed by Joshua Oppenheimer is released in UK cinemas on Friday 28 June 2013, certificate 15.
Image: The Act of Killing - Dogwoof Film
Claire Messud
The Woman Upstairs written by Claire Messud is published by Virago.
Credits
| Role | Contributor |
| --- | --- |
| Interviewed Guest | Joshua Oppenheimer |
| Presenter | Anne McElvoy |