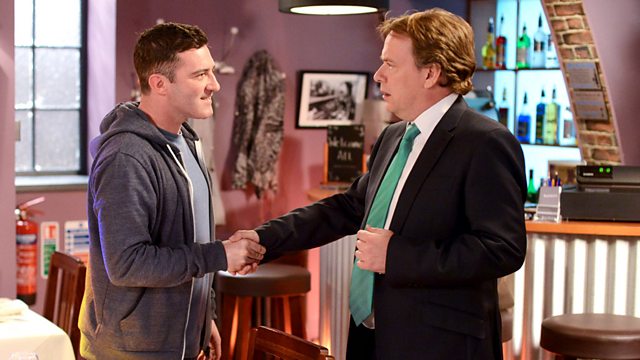 20/06/2013
The kitchen sink's overflowing and Morgan's sheepish. A man, who Bianca assumes is the plumber, arrives and unblocks the sink. When the real plumber turns up the man admits he's Derek's friend Carl, Bianca phoned him the other day. Kat tells Carl Derek's dead. Bianca's chatty, even telling Carl where Alice lives, but Kat's suspicious. Carl visits and charms Alice. He searches Derek's old bedroom and looks through Derek's lock box and Alice mentions Ian found it. Kat's annoyed to find Carl with Alice and realises he lied about knowing her. Carl identifies Max in the Vic then finds Ian at Scarlett's. He questions Ian and books a table, claiming Derek's buying him dinner. When Carl mentions Derek owes him £10,000 and was keeping it in a box; Ian's reaction shows Carl he has his man. Carl goes, leaving Ian terrified.
Upbeat, Michael heads to the hospital with a present for Scarlett but Janine doesn't turn up. Michael leaves after accusing a nurse, Annabel, of sneaking her in. Kat's concern for Michael turns to anger when she overhears him telling Tommy he's his real father.
Ava and Sam are awkward in public. Sam offers an advance on the car so Dexter and Jay can book their holiday. Dexter doesn't want it but Phil passes the cash to Jay. Jay, Lola and Abi are excited about the upcoming holiday but Dexter's unenthusiastic. Sam informs Ava he's not leaving Walford, last night was too amazing.
Ian takes Peter off the stall to train him in the art of management at Scarlett's. Tanya thinks going out with Peter might help Lauren; Max has reservations but Kirsty's on Tanya's side. Peter's unsure but invites Lauren to lunch. Lauren agrees but then doubles over, nauseous and in pain. Peter's concerned and Lauren tells him to get out.
Last on
Credits
| Role | Contributor |
| --- | --- |
| Ian Beale | Adam Woodyatt |
| Carl White | Daniel Coonan |
| Kat Moon | Jessie Wallace |
| Michael Moon | Steve John Shepherd |
| Alfie Moon | Shane Richie |
| Peter Beale | Ben Hardy |
| Lauren Branning | Jacqueline Jossa |
| Tanya Cross | Jo Joyner |
| Max Branning | Jake Wood |
| Kirsty Branning | Kierston Wareing |
| Alice Branning | Jasmyn Banks |
| Bianca Butcher | Patsy Palmer |
| Ava Hartman | Clare Perkins |
| Sam James | Cornell S John |
| Dexter Hartman | Khali Best |
| Lola Pearce | Danielle Harold |
| Abi Branning | Lorna Fitzgerald |
| Jay Brown | Jamie Borthwick |
| Phil Mitchell | Steve McFadden |
| Morgan Butcher | Devon Higgs |
| Annabel | Lisa Greenwood |
| Plumber | Glen Davies |
| Executive Producer | Lorraine Newman |
| Director | Piotr Szkopiak |
| Writer | Jesse O'Mahoney |