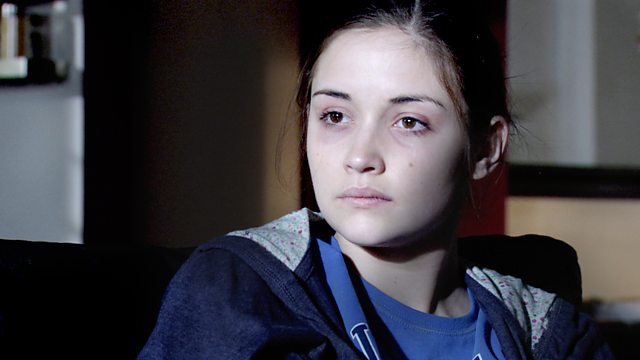 17/06/2013
Alice's angry with Joey for hitting Michael. When Poppy attempts to spend the day with her, Alice realises Joey's behind it. Bianca notices Alice stealing a key ring and tells Joey. Alice shows Joey the cupboard full of stolen goods. Alice's happy when Carol brings over Derek's lock box but Joey's dismissive, blaming Derek's death for Alice starting to steal. Alice tells Joey he's the same as Derek, he denies it then looks at a childhood photo of himself from the box.
Tanya helps a panicking Abi study and Max drives her to her exam after giving her a new lucky toy. Lauren avoids Tanya but starts planning for Abi's birthday. Tanya's hurt when Max reveals Lauren doesn't want to move home. Kirsty notices Lauren shaking and tells Lauren about her past. Lauren concedes she's been throwing up but won't admit she's an addict. Though insisting Kirsty's wrong, Max realises she's right – Lauren's an alcoholic.
Carol's angry that everyone saw David's letter before her. Bianca plans to hire a private detective to find David but Carol tells her to let it go. Ian can't believe it was Peter, not Lucy, who gave Bianca the letter. Lucy thinks Ian should be scared - they could find out about the money. Ian gives the lock box to Carol and Bianca. Bianca phones a number from the box. It's not David but the person on the phone's interested to learn Derek ended up in Walford. Bianca hangs up when they ask for her address.
Jack and Kat are concerned about Michael and decide he'll have to stay at Jack's.
Sam attempts to win Dexter over, getting to know Lola and dropping in to the Arches, but doesn't make any headway. He tells Ava he'll leave when his car's ready the next day.
Last on
Credits
| Role | Contributor |
| --- | --- |
| Max Branning | Jake Wood |
| Kirsty Branning | Kierston Wareing |
| Tanya Cross | Jo Joyner |
| Abi Branning | Lorna Fitzgerald |
| Lauren Branning | Jacqueline Jossa |
| Joey Branning | David Witts |
| Alice Branning | Jasmyn Banks |
| Bianca Butcher | Patsy Palmer |
| Carol Jackson | Lindsey Coulson |
| Kat Moon | Jessie Wallace |
| Michael Moon | Steve John Shepherd |
| Jack Branning | Scott Maslen |
| Ava Hartman | Clare Perkins |
| Sam James | Cornell S John |
| Dexter Hartman | Khali Best |
| Phil Mitchell | Steve McFadden |
| Jay Brown | Jamie Borthwick |
| Lola Pearce | Danielle Harold |
| Ian Beale | Adam Woodyatt |
| Lucy Beale | Hetti Bywater |
| Peter Beale | Ben Hardy |
| Poppy Meadow | Rachel Bright |
| Executive Producer | Lorraine Newman |
| Director | Piotr Szkopiak |
| Writer | Jeff Povey |