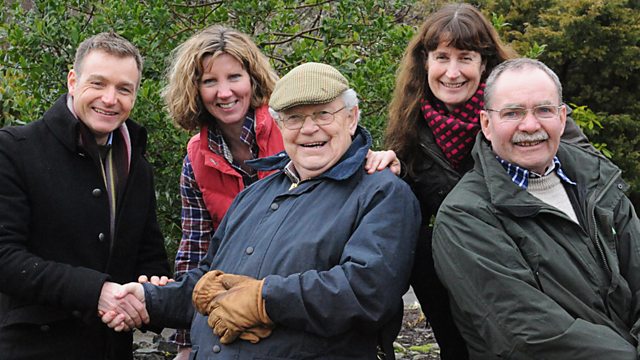 Jim is in Beechgrove's Compost Corner showing the different stages of compost in the garden and shares his best recipe for perfect compost.
Chris and Jim look at old and new varieties of herbaceous plants. They each take a side of the herbaceous border that is dissected by a bark path and plant similar herbaceous, comparing old and new varieties to see which fare better and flower longer.
Chris and Carole are in among the fruit, adding some patio fruit to the collection and this time growing in pots that will allow air pruning.
George is with Rebeccah and Andy Welsh in Linlithgow. A spring recently surfaced in their garden and overflowed into a border which was planted with cottage garden plants and has made a complete mess of it. They would love to restore this border; particularly since they want to open next spring for Linlithgow's secret garden event. George creates a dragon-themed area with logs and stones, ferns, conifers and oddly shaped plants to create an unusual but practical effect.
Carole visits Poyntzfield Herb Nursery on the Black Isle who have been growing herbal plants and seeds including native species since 1976. They have over 400 varieties of herb from all over the world but they do also include plants native to Scotland that have herbal properties. The nursery is on the Black Isle and is the highest latitude herb nursery in Scotland and because of the high latitude and long winters, all plants are hardy and suitable for almost any garden.
Carole and Carolyn revamp the potager garden at Beechgrove with a new range of herbs and Carole seeks advice about unusual Scottish native herbs that can be grown at Beechgrove.
Last on
Credits
| Role | Contributor |
| --- | --- |
| Presenter | Jim McColl |
| Presenter | Carole Baxter |
| Presenter | Carolyn Spray |
| Presenter | Chris Beardshaw |
| Presenter | George Anderson |
| Producer | Gwyneth Hardy |