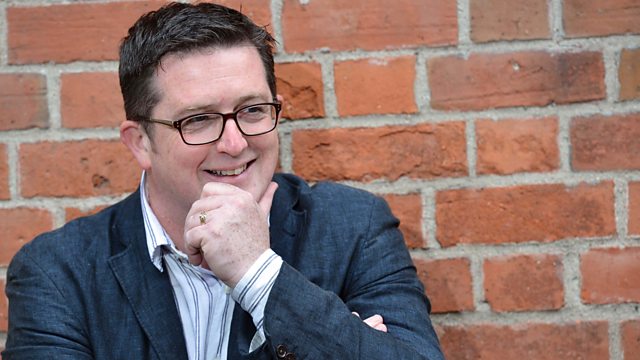 15/06/2013
John Toal looks at health, relationships, hobbies and family along with great music and chat, big interviews, fascinating people and great craic, plus recipes from Paula McIntyre.
Last on
Curried Eggs, Wholemeal Pancakes & Baked eggs with Mushrooms & Smoked Cheese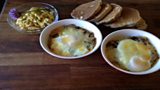 Curried Eggs
6 eggs boiled for 8 minutes, cooled and peeled and chopped
1 stick celery, finely chopped
2 scallions, finely chopped
1 teaspoon red chilli, finely chopped
1 tablespoon chopped dill
2 tablespoons mayonnaise
2 tablespoons sour cream
1 teaspoon curry paste
1 teaspoon cooking oil
Fry the curry paste in the cooking oil for about 30 seconds.
Place in a bowl and add the remaining ingredients.
Check seasoning.
Serve onto bread and top with crispy fried parma ham or smoked salmon.
Wholemeal Pancakes
200g soda bread flour
100g wholemeal flour
½ teaspoon salt
1 teaspoon baking powder
300ml buttermilk
2 eggs
Sift the flours, salt and baking powder into a bowl.
Whisk the eggs and buttermilk together.
Whisk the two together and rest for 10 minutes.
Rub a pan with oil and heat to medium high heat. Add tablespoons of the batter to the pan and cook for about 1 minute – when bubbles appear, flip over.
Repeat with remaining batter.
Cool on a wire rack.
Baked eggs with Mushrooms and Smoked Cheese
250g mushrooms, halved and sliced
1 onion, finely sliced
Handful chopped parsley
2 tablespoons cooking oil
25g butter
6 large eggs
6 tablespoons double cream
100g smoked cheese
Heat half the oil in a frying pan until smoking hot.
Add half the mushrooms and dot around half the butter. Season and cook until golden.
Repeat with the remaining mushrooms and add the onion.
Cook until golden and add the parsley.
Divide into 6 ramekins.
Crack an egg into egg ramekin.
Drizzle over a tablespoon of cream into each. Scatter over the cheese.
Place in a roasting tin and pour hot water into the pan, half way up the ramekins.
Bake in a 180oc oven for 10 minutes.
Remove and eat with toast.