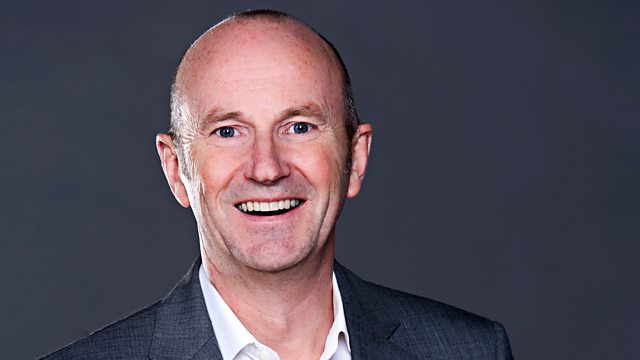 25/06/2013
Join Fred MacAulay in MacAulay & Co as he tackles the following:
A Canadian pair of newlyweds asked for the receipt of one gift so they could return it. Fred looks at the etiquette of returning gifts - open up or shut up?
John Boyne, author of Boy in Striped Pyjamas, joins us to celebrate his latest book and why he's taking part in The Gathering....
Chef Jak O'Donnell gives us her latest 'Great Things' - Steak Pie - but what does she add to it that makes it so different and better from everyone else's?
Rick Stein's India is on our screens now - but how easy is India to get to and how much can we feasibly see - given its size - on a week's holiday?
The RSPB is suggesting we down tools in the garden and be less fussy about keeping everything in ship shape - for the sake of our wildlife.
and with the abundance of strawberries in the shops just now - we find out how there's more to the fruit than having it with ice or double cream.
Last on
Jak O'Donnell's Steak Pie
Ingredients;
Large chunk of dripping
700g boneless beef shin or ox cheek, cut into large chunks
20g plain flour, seasoned
200g smoked bacon lardons
225g whole pickled baby onions
400ml sweetish dark ale
400ml beef stock
4 sprigs of thyme, leaves roughly chopped
1 bay leaf
1 tbsp dark muscovado sugar
1 tsp red wine vinegar
1 tsp cocoa
For the pastry:
A packet of ready rolled puff pastry ...
A little milk, to glaze

Method;
1. Preheat the oven to 150C (fan). Heat a generous chunk of dripping in a large frying pan over a high heat, and toss the beef in seasoned flour to coat. Sear the beef in batches, taking care not to overcrowd the pan, until properly browned. Spoon into an ovenproof casserole once done.
2. Turn down the heat slightly, and add the lardons and the onions to the pan. Cook until the bacon fat begins to melt, and the onions to brown on all sides, then tip into the casserole.
3. Pour a little of the ale into the pan and bring to a simmer, scraping the bottom, them pour the whole lot into the casserole with the meat. Add the rest of the ale, and the stock, herbs, sugar, vinegar and cocoa and bring to a simmer.
4. Cover, and put in the oven for 2¼ hours, then uncover and cook, stirring occasionally, for another 1½ hours until the meat is tender and approaching falling apart (it will cook further in the pie.) Allow to cool to room temperature.
5. Meanwhile, get the pastry ready. Cut to size for what ever dish you are covering
6. Preheat the oven to 170C (fan). Spoon the pie filling into a dish, and roll out the pastry on a floured surface to about 1cm thick. Place over the pie, pushing down around the edge to seal, and cut a hole in the middle to allow steam out. Brush with milk and then bake for about 50 minutes until golden.
Karon Grieve's Strawberry and Lavender Gin
Has to be the easiest infused hooch to make and looks and tastes amazing
750ml gin
175g caster sugar
400g strawberries
5 lavender heads

Mix everything in a large kilner type jar and shake well. Leave in a dark cupboard for a week shaking each day to dissolve sugar.
After a week strawberries will have lost all colour and gin will be pink. Pour through a sieve lined with kitchen roll twice and decant into nice bottle. Serve with tonic for long drink or seriously chilled as a summer shot. Keeps for 6 months. Makes a great prezzie!