Post Bag Edition
This week the team visits Matt Biggs' garden to tackle listeners' questions as Eric Robson hosts a postbag edition of Gardeners' Question Time. Eric and Matt are joined by Pippa Greenwood and Bunny Guinness.
Produced by Howard Shannon
A Somethin' Else Production for BBC Radio 4.
Q. I have a small yard and would like to grow tall plants to screen the windows. The yard is north-west facing, shady and very windy, and plants would need to be in large pots. I currently have a Salix Caprea willow, but it has not done well this year.
A. Black bamboo is recommended, or Hawthorne for a more 'native' feel. Hollies would work but are difficult to establish. House plants such as Dracaenas, Begonias or chili plants could be used to create a foliage curtain behind the window on the inside of the house.
Q. My 20m square lawn is repeatedly infested by moss. Is there an alternate ground cover I can plant instead of the traditional grass, ideally not too costly or time-consuming.
A. Pallets of low-growing flowering plants could be used, established using a combination of seed and plugs, that would require mowing about six times per year. Epimediums, Tiarella or Lamiums could be used if the current lawn is in a shady spot.
Q. We are trying to create a bog garden in a shady area, but have limey soil that does not agree with plants such as Candelabra Primulas, Himalayan Poppies etc. Could the panel suggest plants for the boggy area that will tolerate the lime?
A. Think about adding sulphur chips to reduce the pH, and the Primulas and Poppies should be fine. Marsh Marigolds would also do well.
Q. My soil is dry and sandy so when I grow potatoes I don't heap up the soil around them because I am worried the soil would dry out even faster and that rainwater would run off the plants. What would the panel advise?
A. If the soil is free draining, heaping up with organic matter may help to conserve the moisture. A huge amount of watering will also be needed to get good growth. Earthing up also helps to protect against frost etc.
Q. I have a bare area under a well-established Cherry tree, the area corresponding to that of the canopy. Would you plant in that area to keep year-round interest, or keep it free from plants and weeds?
A. Try a succession of bulbs early in the year. Erythroniums, Crocuses, Daffodils and Narcissus, Camassias, Tulips, Saxotile, Geraniums (specifically Geranium Phaeum 'Samobor') and Cyclamen hederifolium are all recommended. The bulbs will come out in the most part before the Cherry comes into leaf.
Q. I planted a rhubarb plant at the end of last summer and managed to get two crops from it. This year it seems to have flowered. What should I do with it?
A. Flowering is often a sign of stress or distress - in this case harvesting before the plant is established. Take the flower stem out and keep the plant well watered and manured, and don't pull any more sticks from it until it is well established. Rhubarb flowers are very beautiful - Rheum Ribes, the Syrian rhubarb, is a wild species grown just for its flowers.
Q. I have a very shady garden and wanted to grow a Clematis which would enjoy the shady location. Two years ago I bought a Clematis called 'Guernsey Cream' which claimed to do well in shade. For two springs the plant flowered well. However, this year's flowers have been small and green. Why is this?
A. There is an infection that Clematis gets, caused by a microplasma, which causes the plant's petals to turn green. This tends to remain, so it may be best to begin again with a new plant. When growing Clematis in shady spots, opt for varieties with paler flowers (such as 'Nelly Moser') as they keep their colour for longer.
Q. I have nine old Hawthorne trees around the boundary of my garden. They look like they may have once been a hedge, but that left uncut have become trees. If I were to cut down the trees to around 6ft, would they grow and bush out again and how long would this take?
A. Planting a secondary hedge below them would probably work better - plants such as Rosa Arvensis or Rosa Canina, Gelder Rose, native Dogwoods, Field Maples and Euonymus are recommended.
Q. There is a Rowan tree growing in a Scots Pine near my house. Can the panel shed any light on what the Rowan is doing growing so high up in a Pine?
A. The Rowan berry would probably have been deposited in the Pine by a bird, and rot or general debris up the pine will have allowed the roots to take hold. Water from the atmosphere will have helped the Rowan to survive.
Last on
New foe or immigrant specie?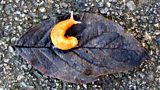 A listener contacted the panel to ask about a very brightly coloured slug she had found in her garden. She wanted to know whether it was a new kind of foe, or simply an immigrant specie she'd not seen before. Pippa's answer? Not to worry. There are a phenomenal number of slug species, resulting in an amazing range of colours, patterns, sizes and shapes of slug!
Eric's favourite gooseberry bush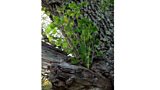 Eric Robson shared the story this week of a very healthy, happy gooseberry bush he has discovered - growing 15ft up in an oak tree in his garden!