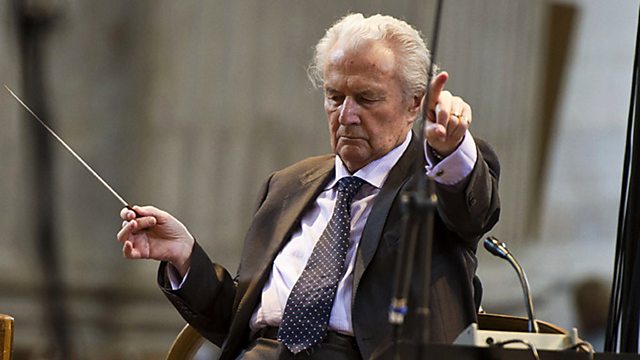 London Symphony Orchestra: A Tribute to Colin Davis
Live from the Barbican Hall in London.
Presented by Martin Handley.
The London Symphony Orchestra pays tribute to their late President and Principal Conductor Sir Colin Davis, who died in April. The programme has been chosen to reflect Sir Colin's life in music, from his championing of composers such as Berlioz to his lifelong support for young musicians.
Richard Strauss: Festmusik der Stadt Wien
(Students from the Royal Academy of Music and Guildhall School
Patrick Harrild conductor)
Berlioz: Overture: Le Corsair
(Joseph Wolfe conductor)
Mozart: Violin Concerto No 3, K216
(Nikolaj Znaider violin-director)
8.20: Interval
8.40: Beethoven: Symphony No 8
(Gordan Nikolich director)
Brahms: Nänie
(London Symphony Chorus, Nikolaj Znaider conductor)
London Symphony Orchestra
Directed by Joseph Wolfe, Nikolaj Znaider and Gordan Nikolich
Sir Colin Davis specified that there should be no memorial service held for him: so instead the London Symphony Orchestra have decided to transform the concerts he was still scheduled to conduct into their own tribute to him. Reflecting his work with young musicians, the opening piece is played by students from two London colleges - Sir Colin held the Academy's International Chair of Conducting and Orchestral Studies. His son Joseph Wolfe conducts Sir Colin's beloved Berlioz, then Danish violinist and conductor Nikolaj Znaider directs the LSO in Mozart - Sir Colin once said "There is so much negative nonsense talked about Mozart, but he is - well, he's life itself". Sir Colin and Znaider had planned to play the work together.
Following the interval, the work that first inspired the teenage Colin Davis to become a conductor, directed by Gordan Nikolich, who was Leader of the LSO for many years under Sir Colin. The concert closes with Brahms's rarely-performed funeral song 'Nänie', a setting of a poem by Friedrich Schiller, which Brahms wrote in memory of a close friend.
Last on