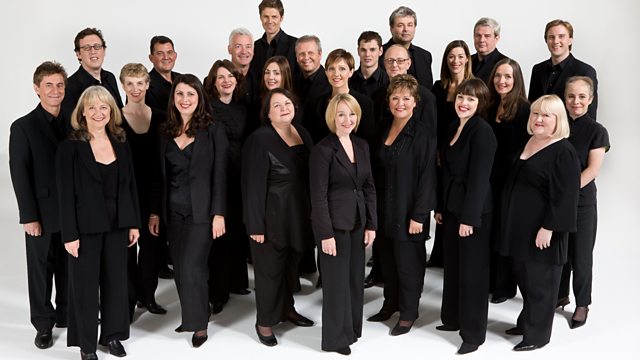 BBC Singers - Voices and Saxophones
Live from St Paul's Church, Knightsbridge
Presented by Martin Handley
The BBC Singers, conducted by James Morgan, are joined by the Raschèr Saxophone Quartet in music for the unusual, but beguiling, combination of choir and saxophones.
Erkki-Sven Tüür: Meditatio
Nørgård: Wie ein Kind
Henry Purcell: Fantasia no 7 (Z.738)
Ian Wilson: Little Red Fish
8.25 Interval Music
8.45
Knut Nystedt: Immortal Bach
J S Bach: Contrapunctus IV from The Art of Fugue (BWV 1080)
Giya Kancheli: Amao omi
In an unusual musical collaboration, this concert brings together the expert choral forces of the BBC Singers, conducted by James Morgan, with the instrumental ones of the Raschèr Saxophone Quartet. Founded in 1969 by one of the modern pioneers of the instrument, Sigurd Raschèr, the quartet are renowned for their virtuosity - and a German critic has written "If there were an Olympic discipline for wind playing, the Raschèr Quartet would definitely receive a gold medal." In tonight's wide-ranging programme they give, with the BBC Singers, the British premieres of three of the many pieces they have commissioned from living composers. The Estonian Errki-Sven Tuür sets a Latin prayer by St Anselm of Canterbury, Giya Kancheli has based his piece on a variety of sacred texts from his native Georgia, while Belfast composer Ian Wilson sets words by the Austrian Expressionist poet and artist Oscar Kokoschka. Alongside these pieces, the BBC Singers perform two contemporary works for unaccompanied voices by Per Nørgård and Knut Nystedt, while the Raschèr Quartet demonstrate that four saxophones are just as well suited to the music of the Baroque as to contemporary scores.
Last on