David Edgar, Foghorn Requiem, Population, Adam Broomberg
Arts and cultural debate with Anne McElvoy.
David Edgar: playwright's new work 'If Only' focuses on moral dilemmas facing those who went into The Coalition Government.
Foghorn Requiem: Composer Orlando Gough tells us about his role in a one-off-art event celebrating the UK's long-silent foghorns in the north-east of England.
Population: Geographer Danny Dorling in new book 10 Billion: The Coming Demographic Crisis and How To Survive It explains why he believes the predicted population explosion won't happen and even if it does, we might just cope. Nick Bostrom, of the Future Humanity Institute joins the discussion.
Adam Broomberg: together with partner Oliver Chanarin, winner of the Deutsche Borse Photography award 2013 on their works War Primer 2 and Holy Bible and why their concern is mistrust of the images which saturate our lives. That's Night Waves, tonight at 10pm with Anne McElvoy, here on Radio 3.
Last on
David Edgar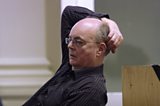 If Only written by David Edgar is on at Chichester Festival Theatre until Saturday 27 July 2013.
Image: David Edgar at If Only rehearsal. Credit: Catherine Ashmore.

Danny Dorling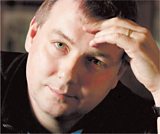 Population 10 Billion: The coming demographic crisis and how to avoid it written by Danny Dorling is published by Constable.
Adam Broomberg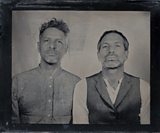 Holy Bible by Adam Broomberg and Oliver Chanarin is published by Mack.
War Primer 2 also by Adam Broomberg and Oliver Chanarin is on at The Photographers' Gallery, London until Sunday 30 June 2013.