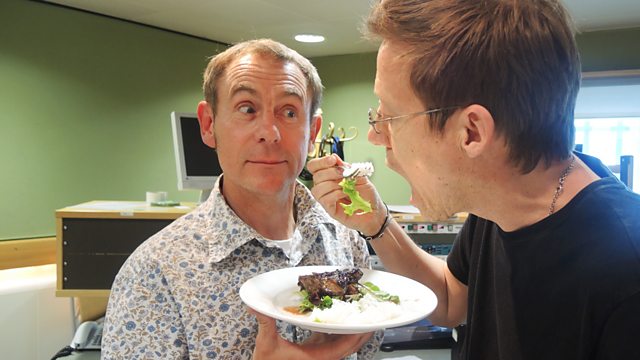 Foodie Thursday
It's Foodie Thursday and Simon Mayo is joined by our resident chef Nigel Barden. Plus there's a brand new confession for the collective's conscience
Matt has the sport news, Rebecca is on the money and Sally updates the travel.
Last on
Nigel's Marinated Rack Of Lamb Recipe
Gae Rong Hai - Grilled Marinated Rack of Lamb, topped with homemade sweet & sour Tamarind Sauce.
by Babu Nair from Mango Tree Restaurant
 
Tender, flavoursome lamb that can be served with rice, or simply with a crunchy salad.
 
Serves 2 <?xml:namespace prefix = o ns = "urn:schemas-microsoft-com:office:office" />
Prep time: 15 mins (+ overnight marinading)
Cooking time: 15 mins
 
Ingredients
Rack of lamb cut into 6 pieces
 
Marinade
150g lemongrass (roughly chopped)
150g galangal (peeled & roughly chopped. If not available, substitute with ginger)
100g garlic (peeled)
100g fresh coriander
Salt & ground black pepper
 
Sauce
100ml tamarind sauce 
1 tsp chilli powder
1tbsp fish sauce
50ml water
1tbsp corn flour
 
Method
1.    Blend the marinade ingredients together until they form a paste.  Rub over the lamb & leave overnight in the fridge.
2.    Grill the lamb for 1 min on each side & finish on a tray in a preheated 180C oven for 7 mins (medium) or 12 mins (well done).
3.    While lamb is cooking, put the tamarind sauce & water in a pan and bring to the boil.
4.    Add chilli powder & fish sauce.
5.    Slowly add the corn flour while whisking to thicken the sauce slightly until it reaches the desired consistency.
6.    Season with s&p & serve on a bed of salad &/or rice.  Pour the sauce over the lamb.