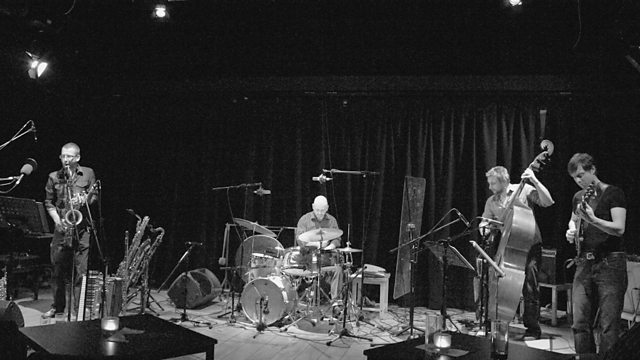 Home of the Brave, Chris Sharkey
Jez Nelson presents new music from the Leeds jazz scene with acoustic quartet Home Of The Brave's unique take on the music of American Westerns and a solo set from guitarist Chris Sharkey.
Freewheeling jazz from a four-piece inspired by the music of American Westerns and distorted solo improvisations on rock-pop classics – the two collide inside the tiny top room of a city-centre pub at one of Fusebox's monthly nights in Leeds. Continuing Jazz on 3's celebration of contemporary jazz from around the UK, the double bill of Home Of The Brave and Chris Sharkey demonstrates why the Yorkshire city continues to uphold such a strong reputation for accomplished alternative music.
Headlining the night at the Fox & Newt, Home Of The Brave is the brainchild of Jazz Yorkshire's Musician of the Year in 2012, Richard Ormrod. The multi-reedsman has developed a love for the themes and harmonies of Western soundtracks by composers such as Bernstein and Morricone and with Paul Hession (drums), Jonny Flockton (guitar) and Rus Pearson (double bass) he brings something from those cinematic moods into this new experimental setting.
Over the last two decades the city of Leeds has become home to one of the country's liveliest indie and alternative rock scenes and guitarist Chris Sharkey represents a key point of intersection with the worlds of jazz and improvised music. Here heard apart from the members of improvising math-jazz outfits Collider and Trio VD of which he is a member, Sharkey's solo set nevertheless packs a powerful punch amidst the more meditative moments.
Last on