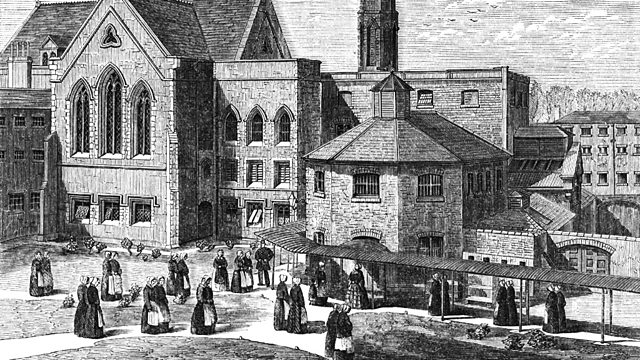 Through the prism of HMP Brixton, BBC Radio 4 traces changing attitudes to crime and punishment during 19th century industrialisation, urbanisation, and national debate about how prisons should be run, who should run them and whether they exist to punish, deter or reform.
In 1852, overcrowded and with a reputation for brutality, Brixton was closed as a local prison for the south of London. Its notorious treadwheels were dismantled and the land and buildings sold at auction. But, at the eleventh hour, it was saved.
The end of transportation to Australia in the 1850s meant Britain suddenly had to find prison accommodation for thousands of serious offenders. The government made a compulsory purchase of Brixton and converted it into a prison solely for female convicts - the first of its kind in the country.
In the second programme of this series, award-winning historian Jerry White investigates how both prisoners and staff dealt with this new regime.
Long-term imprisonment on a large scale was an unknown quantity. We hear the reaction of current prisoners - as the current chaplain reads out the first sermon ever delivered in the chapel. And we discover a remarkable connection between the woman put in charge of Brixton in the 1850s and a member of staff of today.
Jerry also examines cases of so-called 'breakings out' - where women would tear up their bedding, strip naked and smash windows in apparent outbursts of frenzy. And how public concerns about the mollycoddling of prisoners eventually led to Brixton's closure for a second time.
Producer: Chris Impey
A PRA production for BBC Radio 4.
Last on