The Gospels Come Home
As the priceless Lindisfarne Gospels visit Durham for a major exhibition after four centuries' absence, multiple-award-winning author David Almond explores what they mean to his fellow North-Easterners.
At the heart of this programme are a sequence of lyrical, location-based "meditations", in which David reflects - in his inimitable style and voice - about the ways in which the Lindisfarne Gospels, and their creation on Lindisfarne during the Anglo-Saxon era, laid the foundations for what it means to be a North-Easterner today.
The Lindisfarne Gospels are one of the world's greatest books and among the most important works of European art of the first millenium. Created on the Holy Island of Lindisfarne around the year 700, they are normally housed in the British Library in London, but for three months this summer, the Gospels are returning to the North East for a major exhibition in Durham.
David Almond visits the British Library, Durham, Newcastle and Lindisfarne itself - a location he has adored since his boyhood - to explore the meaning of the Gospels to himself and to his fellow North-Easterners.
He talks with experts in early books and local people on the island to find out more about the making of the Gospels, the unique place they hold in terms of art, religion and literature, the long journeys they have made in the past and their "homecoming" this summer.
David Almond is a writer of short stories and adult fiction but is best known for his children's writing - above all, Skellig and My Name is Mina. Amongst other awards, he has won the Carnegie Medal, the Whitbread Children's Award, The Michael L.Prinz Award, the Guardian Children's Fiction Prize and and the Smarties Book Prize.
Producer Beaty Rubens
First broadcast in June 2013.
Last on
David Almond with St Mary's Church, Lindisfarne in the background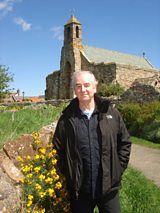 On one of the two unexpectedly fine days when he recorded on the island for The Gospels Come Home. 
On the shores of Lindisfarne, with St Cuthbert's Island in the background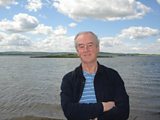 Portrait of St John the Evangelist in the Lindisfarne Gospels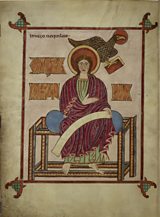 Used with kind permission from The British Library
Digitised manuscripts at The British Library
Blog post about the Lindisfarne Gospels and the St Cuthbert Gospel