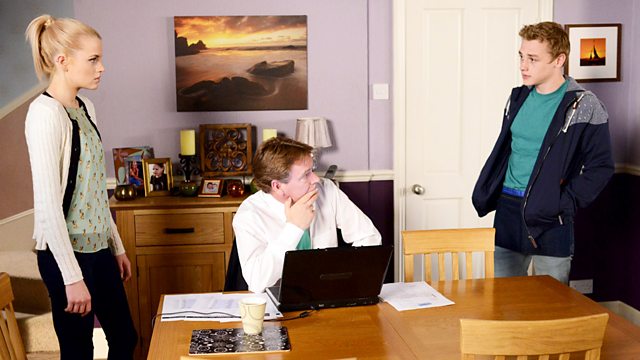 14/06/2013
Max's keen for Lauren to move in with him and Kirsty but Tanya isn't. Abi escapes to revise at Dot's but seeing Tanya's distress offers to spend a girly day with her and Lauren. The girls bond but while Tanya's out picking up Oscar Lauren escapes and buys vodka in the Minute Mart. When Lauren returns, Abi grabs the vodka and pours what's left down the sink. Lauren locks Abi out of the kitchen and destroys her revision notes. Tanya walks into an argument and explains Oscar fell asleep at school because he was so tired. Unable to cope, Tanya throws Lauren out of the house - Max and Kirsty can sort her out.
Kat counsels a heartbroken Alice only to discover Michael's the cause. Kat gives Michael a piece of her mind. The nursery call, wanting to know where Scarlett is and when Jack leaves Amy with Michael, Michael misses his daughter more than ever. Michael brags to Joey that he slept with Alice, provoking Joey to punch him. Jack breaks the fight up and leaves the pub with Joey.
Sharon's struggling to hold things together; she throws Phil out when he tells her she's a mess. Sharon tells Dot she doesn't have time to organise the club night, admitting she's struggling. Dot advises her to take a break and Sharon decides to take Dennis to visit Michelle. Jack comes to say goodbye, telling Sharon if he could make things better for her and Dennis he would.
Lucy shows Peter the letter for Carol that Ian's been hiding; Peter confronts Ian who claims Lucy told him to keep hold of it. Fed up of the one-upmanship, Peter tells Ian and Lucy he's never going to pick a side. He gives the letter to Bianca, who realises it's from David.
Last on
Credits
| Role | Contributor |
| --- | --- |
| Tanya Cross | Jo Joyner |
| Lauren Branning | Jacqueline Jossa |
| Abi Branning | Lorna Fitzgerald |
| Cora Cross | Ann Mitchell |
| Max Branning | Jake Wood |
| Kirsty Branning | Kierston Wareing |
| Michael Moon | Steve John Shepherd |
| Joey Branning | David Witts |
| Kat Moon | Jessie Wallace |
| Alice Branning | Jasmyn Banks |
| Jack Branning | Scott Maslen |
| Sharon Rickman | Letitia Dean |
| Dot Branning | June Brown |
| Ian Beale | Adam Woodyatt |
| Peter Beale | Ben Hardy |
| Lucy Beale | Hetti Bywater |
| Bianca Butcher | Patsy Palmer |
| Phil Mitchell | Steve McFadden |
| Shirley Carter | Linda Henry |
| Tyler Moon | Tony Discipline |
| Dennis Rickman | Harry Hickles |
| Oscar Branning | Charlie Hall |
| Oscar Branning | Neo Hall |
| Executive Producer | Lorraine Newman |
| Director | Alex Kalymnios |
| Writer | Katie Douglas |