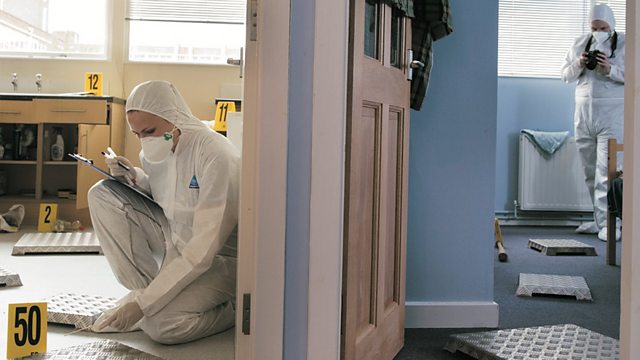 11/06/2013
Adam Walton serves up another slice of Welsh science and technology, talking to forensic science experts and visiting a mocked-up crime scene.
Last on
Forensic Science
There's a suspicious white powder and drugs paraphernalia on the table and, on the floor, a blood-covered iron. As classrooms go, it's a rather unusual one but this mocked-up crime scene is a vital teaching aid for students studying forensic science at Glyndwr University. In this week's programme Adam investigates the increasingly sophisticated techniques which are now available to forensic scientists.
He joins Dr. Chris Rogers, head of department at Glyndwr, for a walk through the drugs den, looking for evidence that can be sent for forensic analysis. And later in the programme Adam meets Chris's colleagues Dr. Amiya Chaudhury and Dr. Ian Ratcliffe who show him around the lab where this analysis takes place. The lab is equipped with machines which use chromatography to test anything from drugs to evidence recovered from the scene of a suspected arson.
Chris tells Adam about his own specialism, bones. If a skeleton is discovered, the bones can reveal a lot of clues about the age, sex and racial affiliation of the body. And Adam hears from Dr. Romina Carabott how teeth are also an important source of information for forensic scientists. Romina is Director and Forensic Odontology consultant at Expert Forensics and a Senior Lecturer at the University of South Wales. She tells Adam about her role in the difficult but important job of identifying bodies in Thailand after the 2004 Boxing Day tsunami.
We also meet Dr. Mark Elliot at Cardiff University's School of Chemistry who explains the science behind the technique which has revolutionised forensic science over the last 25 years – DNA fingerprinting.