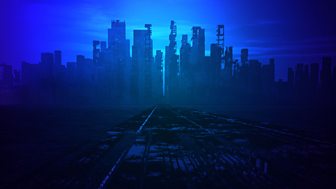 Dangerous Visions
Dramas that explore contemporary takes on future dystopias. You will be disturbed, as you see the present reflected in the glass of an uneasy future.
On radio
There are no upcoming broadcasts of this programme
Last on
Fri 17 Mar 2017 14:15
BBC Radio 4
Don't panic! Just take our quiz to find out if you're a hoopy frood or not…

We beamed a message out into the galaxy asking for your favourite science fiction quotes…

Life, the universe and everything from the author of The Hitchhiker's Guide To The Galaxy

Taking inspiration from Ray Bradbury: a collection of stories about the magic of tattoos.

Strange, evocative music from the place where nightmare and reality meet.