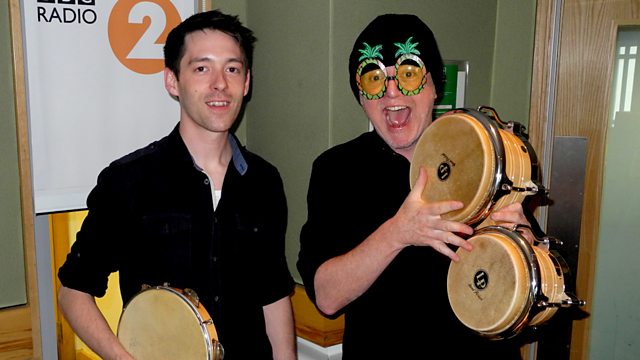 A Friday Tutorial with Professor Bongo!
This morning, we catch up with Amy Flood, star of the school stage and our Kids for a Fanfare feature. She gives us a snippet of song, to celebrate her score of one BILLION!
We go bonkers for bongos and congas, with our rip-roaring rhythmic guest James Heggarty - AKA Professor Bongo!
Vassos then then picks up the the bongo beat for Top Tenuous. And today's Pause for Thought is delivered by Simon Cohen.
Last on
Pause for Thought
Simon Cohen, who runs a communications agency<?xml:namespace prefix = o ns = "urn:schemas-microsoft-com:office:office" />
The whole birth was really something, and I saw my wife Kate - and in fact all women - in a completely different light. I couldn't help thinking 'why don't we respect women more in society?'
There was one particular moment, that I will always remember, when Kate had already been in labour for about 24 hours. She was sitting in our room, her eyes closed, breathing deeply, focused and relaxed in all her feminine beauty.
And she smiled.
I have never known love like it. And it was a purely platonic love.
In Plato's Symposium, we're introduced to two versions of Aphrodite, the Greek Goddess of Love. One is the Spiritual Aphrodite, whose beauty and wisdom inspires joy, and the non-physical love, which we now know as platonic love. The other is the Common Aphrodite, who inspires sexual desire.
I wonder if one of the reasons women are not respected more, is that so much emphasis these days is placed on the Common Aphrodite.
Whether it's casual sexism on social media, the widespread use of pornography, or men-only boardrooms, we are in danger of forgetting the complexity and complete awesomeness of women.
The beauty of women, of all of us, transcends the physical. As Gandhi said,
'Spiritual relationship is far more precious than physical. Physical relationship divorced from spiritual is body without soul.'
If the women in your life are anything like mine, with my wife, mum, sister, friends, and now my daughter, the Spiritual Aphrodite is alive and well.
When we show women more respect, we become better people. We become more civilized, more enlightened, when we honour where we all come from.
For the ladies out there, how can you celebrate the beauty and wisdom of a sister from another mister today?
And for men, what will the words and actions we use today towards women say about us and how far we've come?  Let's all move beyond the Common, the predictable, the tired, and lift up our Aphrodites as the goddesses they are.