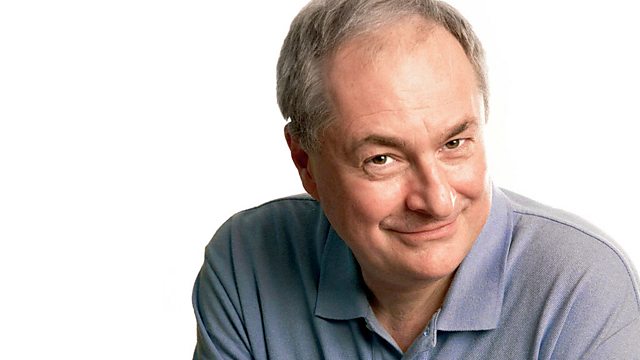 (6/13)
Do you know which hit comedy film of the 1980s featured the theme tune 'Axel F'? And in Berlioz's opera based on Shakespeare's Much Ado About Nothing, which two characters are named in the title?
Paul Gambaccini is in the chair for the latest heat of the music quiz Counterpoint, this week coming from Media City in Salford and featuring competitors from Glasgow, Chester and Malvern in Worcestershire.
One of them will win a place in the semi-finals later in the summer, and may be in with a real chance of becoming the 27th Counterpoint champion.
There's music to suit all tastes, and plenty of surprising facts and anecdotes.
Producer: Paul Bajoria.
Last on
COMPETITORS IN THIS PROGRAMME
MILES ARNOT, a retired finance manager from Chester;
WILSON BAIN, an RNIB volunteer from Glasgow;
PHILIP HOLLAND, a schoolteacher from Malvern in Worcestershire.
MUSIC IN HEAT 6
Round One
Harold Faltermeyer: 'Axel F'
Vaughan Williams, words William Walsham How: 'For All The Saints' ('Sine Nomine') - John Davies Singers, Huw Tregelles-Williams, organ
Cole Porter: High Society - 'You're Sensational' - Seth McFarlane/John Wilson Orch/John Wilson
'Black Eyes' - Fyodor Challiapin
Hamish MacCunn: 'The Land of the Mountain and the Flood' - Scottish National Orch/Gibson
Mendelssohn, arr. Rachmaninov: A Midsummer Night's Dream - Scherzo - Sergei Rachmaninov
British Opera Since World War Two
Britten: A Midsunmmer Night's Dream - 'I Know A Bank Where The Wild Thyme Blows' - James Bowman/City of London Sinfonia/Richard Hickox
Vaughan Williams: The Pilgrim's Progress - Act I 'The House Beautiful' - Royal Northern College of Music Opera
Tippett: Ritual Dances - 'Fire in Summer' - BBC Symphony Chorus & Orch/Andrew Davis
Sounds Supernatural
Mussorgsky, arr. Rimsky-Korsakov: 'Night On The Bare Mountain' - LSO/Solti
Kate Bush: 'Wuthering Heights'
Gary Paxton/Bobby Pickett: 'The Monster Mash' - Bobby 'Boris' Pickett & the Crypt-Kickers
Piano Concertos
Beethoven: Piano Concerto No.5 'Emperor' - Claudio Arrau/Dresden Staatskapelle/Sir Colin Davis
Poulenc: Piano Concerto - Finale - Pascal Roge/Philharmonia/Charles Dutoit
Rachmaninov: Piano Concerto No.4 - Slow movement - Jean-Yves Thibaudet/Cleveland Orch/Vladimir Ashkenazy