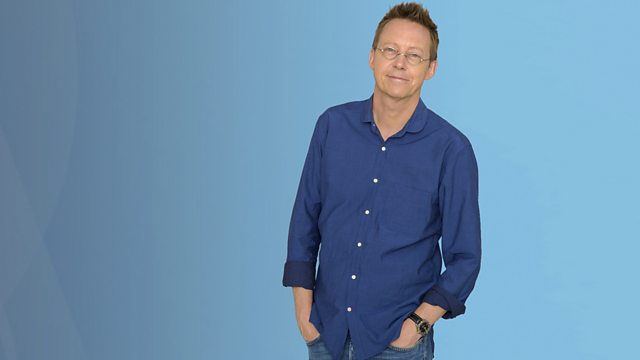 Foodie Thursday
It's Foodie Thursday and Simon Mayo is joined by our resident chef Nigel Barden who will be cooking up another treat for the team. Plus there's a brand new confession.
Matt has the sports news, Rebecca is on the money and Sally updates the travel.
Last on
Nigel's Lime Marmalade, Rum & Chilli Poussins with Avo' Mash
By Levi Roots from 'Grill it with Levi' (Ebury Press)
Serves 4
Prep time: 20mins + 6hrs marinating
Cooking time: 40 mins approx
 
Ingredients
 
For the marinade:
6 garlic cloves, crushed
1 chilli, seeded & finely chopped
1 tbsp fresh thyme leaves
grated zest & juice of 4 limes
sea salt flakes
freshly ground black pepper
2 tsp ground allspice
100ml dark or light rum
2 tbsp olive oil
 
For the glaze:
150g lime marmalade
2 red chillies, seeded & chopped
2 garlic cloves, crushed
3 tbsp clear honey
juice of 1 lime
 
4 poussins
salt & pepper
 
Method
1. First make the marinade.  Pound the garlic, chilli, thyme, lime zest, salt & pepper & allspice together with a mortar & pestle.
2. Add the wet ingredients & combine well.
3. Make slits in the birds in places where they won't be seen – between the legs & the body for example - & coat well with the marinade.
4. Make sure the insides of the birds are coated as well.
5. Cover with clingfilm & chill for about 6 hours, turning the birds every so often.
6. Preheat the oven to 180C/350F/Gas 4.
7. Lift the poussins out of the marinade & transfer them to a roasting tin.
8. Season with salt & pepper & roast for 30 mins.
9. Remove the poussins from the oven & leave them to cool a little – if you put the glaze on while they're hot it will just run off.
10. Meanwhile, make the glaze by vigorously stirring everything together.
11. You need some elbow grease here to break down the marmalade.
12. Spread the glaze all over the birds, inside & out & barbecue for 10 mins, turning every so often & brushing with more glaze.
13. Check for doneness – the juices between the legs & body should run clear, with no trace of pink.
14. Brush with a final coat of glaze & serve immediately.
 
For the Avo' Mash
 
Prepare the avocado just before you want to cook the poussin, as it discolours if it sits around for too long.
 
Ingredients
2 avocados
juice of 2 limes
2 red chillies, seeded & chopped
1 garlic clove, crushed
1 tbsp olive oil
½ tsp soy sauce
salt & pepper
 
Method
1. Halve and stone the avocados and scoop out the flesh.
2. Mash with all the other mash ingredients and set aside.
Today's Most Popular Tracks
Most added tracks from this show