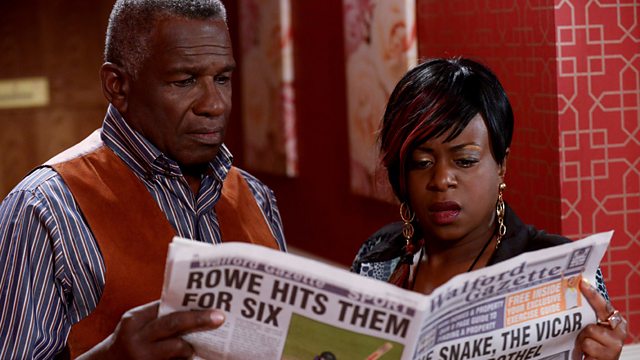 06/06/2013
'The Snake, the Vicar and the Brothel' is front page news. A journalist from the East London Star arrives at the B&B, mistaking Shirley for a prostitute. He tells Kim he'll set the records straight. She's telling her story when Dot comes over fuming – this is her chance of the church wardenship dashed. Denise's putting out the papers and by Shirley's demeanour, we guess she'd sold the story. Kim's grabbing back fliers for Jenna's massage service and Patrick warns that the phone has been ringing for prostitutes. The East London Star comes out, blaming the B&B for ruining a church goer's dream.
Jay and Dexter are excited about the sale of the car. Ava spies Jay handing over the car paperwork to Sam. She berates Sam for going behind Dexter's back but he begs secrecy. Ava asks Dexter about the buyer of the car, and when Jay deflects questions, he becomes suspicious. He goes to Ava, fuming. But when Dexter discovers the buyer was Sam, not Ava, he kicks off and goes back to smash up the car. Sam and Ava arrive, stunned to see his work. Dexter walks off with a grin.
Ian steals a wad of cheques from Lucy's bag. Whitney, Lauren and Poppy through their paces as waitresses. Lucy corners Ian about where the money is coming from for things like branded napkins. He reveals the ten grand from Derek's box, and claims that Janine has given him further funding.
Janine, Alice and Scarlett are happy, having an indoor picnic. Stressed with receiving calls from Michael, Alice steals a pair of Janine's earrings. Janine threatens to call the police. Alice breaks and tells her about Michael. Janine says it will take a while to rebuild trust. She'll see Michael with Scarlett at the restaurant opening.
Last on
Credits
| Role | Contributor |
| --- | --- |
| Ava Hartman | Clare Perkins |
| Dexter Hartman | Khali Best |
| Sam James | Cornell S John |
| Jay Brown | Jamie Borthwick |
| Kim Fox | Tameka Empson |
| Patrick Trueman | Rudolph Walker |
| Shirley Carter | Linda Henry |
| Dot Branning | June Brown |
| Alice Branning | Jasmyn Banks |
| Janine Butcher | Charlie Brooks |
| Lucy Beale | Hetti Bywater |
| Ian Beale | Adam Woodyatt |
| Jean Slater | Gillian Wright |
| Denise Fox | Diane Parish |
| Whitney Dean | Shona McGarty |
| Poppy Meadow | Rachel Bright |
| Lauren Branning | Jacqueline Jossa |
| Reporter | Michael Elkin |
| Executive Producer | Lorraine Newman |
| Director | Ian White |
| Writer | Colin Wyatt |