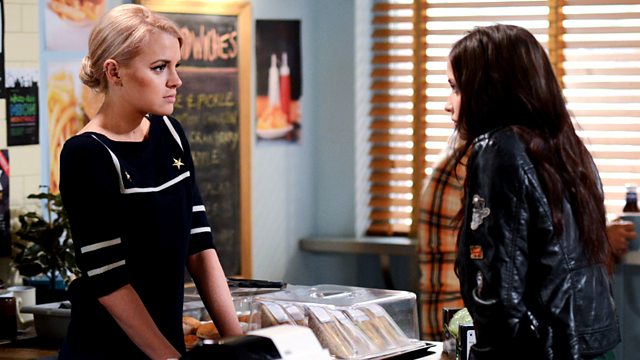 03/06/2013
Ian's stressed about tomorrow's restaurant opening. Denise speaks to Sam, who confirms there's no hope of being finished in time. Denise rounds up Patrick and Kim to help. They scramble together when the press photographer arrives early and all are impressed with Ian's resourcefulness, creating a meal out of a café dish. Ian agrees to invite family and friends.
Bobby uses his pocket money to buy a pet snake, Monty, but Lucy tells him to take it back. Bobby persuades Fatboy to look after it at Dot's until the morning. Dot's getting ready to meet the vicar to discuss the church wardenship. Poppy discovers the snake tank and Fatboy tells her it's a mouse. She leaves the lid of the tank open and Monty escapes.
Michael commands Alice to meet him with Scarlett. On her way, Alice bumps into Janine who takes Scarlett. Poppy notices Alice looking down, but is flummoxed when Alice tries to steal salon conditioner. In the market, Alice steals from a stall. Janine packs Michael's things. Michael confronts Alice about not showing up. She defends Janine and a fuming Michael tells her she's been beguiled. Alice stumps Michael by revealing that she found Janine staring at a photograph of him and Scarlett – Janine still loves him.
On Tanya's advice, Lauren apologises to Lucy, but she's frosty. Dot tells Lauren she needs to extend the olive branch. Lauren apologises for taking Dot's money, speaks again to Lucy, and begs Whitney's forgiveness. She tells Ian she'll work for free at the restaurant opening.
Abi and Dexter are excited in the hope of selling a car to pay for their holiday.
Ava tells Sam their kiss was a mistake, and to stay away. Sam insists Ava and Dexter will always be a big part of his life.
Last on
Credits
| Role | Contributor |
| --- | --- |
| Michael Moon | Steve John Shepherd |
| Alice Branning | Jasmyn Banks |
| Janine Butcher | Charlie Brooks |
| Dot Branning | June Brown |
| Arthur 'Fatboy' Chubb | Ricky Norwood |
| Poppy Meadow | Rachel Bright |
| Ian Beale | Adam Woodyatt |
| Bobby Beale | Rory Stroud |
| Lucy Beale | Hetti Bywater |
| Sam James | Cornell S John |
| Denise Fox | Diane Parish |
| Kim Fox | Tameka Empson |
| Patrick Trueman | Rudolph Walker |
| Whitney Dean | Shona McGarty |
| Tanya Cross | Jo Joyner |
| Lauren Branning | Jacqueline Jossa |
| Abi Branning | Lorna Fitzgerald |
| Dexter Hartman | Khali Best |
| Jay Brown | Jamie Borthwick |
| Dave | Will Bliss |
| Executive Producer | Lorraine Newman |
| Director | Ian White |
| Writer | Paul Mari |