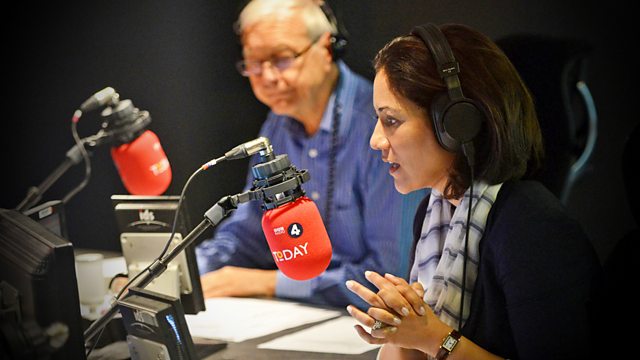 06/06/2013
Morning news and current affairs with Justin Webb and Evan Davis, including:
0751
Residents who live near wind farms could see significant reductions in their electricity bills under plans being announced today by the Government. Robert Keeler, member of North Kincardine Community Council, and Anne Hopkins, from Delabole, in Cornwall which is the site of UK's first wind farm, discuss the effect of the turbines in their area.
0810
The Labour Leader Ed Miliband is making a speech today on Labour's welfare policy, ahead of the Comprehensive Spending review. Nick Robinson, the BBC's political editor provides analysis and Liam Byrne, Shadow Work and Pensions Secretary explains that the speech will be on welfare, spending, cuts and strategy for the Labour party post- election.
0820
There are 103 detainees on hunger strike, 35 being tube fed and six hospitalised. Some 166 detainees still remain in Guantanamo Bay with 86 cleared for release. The prison costs $1m per detained to operate each year. There is one British resident left at Guantanamo Bay, Shaker Aamer who has been cleared for release. The BBC's Jonathan Beale reports.
0832
Are the protests in Turkey in recent days a sign that the country has to choose a path? That choice of course would have huge implications for both the Middle East and the European Union. The BBC's Middle East editor Jeremy Bowen from reports Istanbul.
Last on
A rundown of stories from Thursday 6 June including programme highlights and comment.
Life Inside 'Islamic State': Diaries
Thursday 6 June
Labour MP Liam Byrne discusses the party's welfare spending policy. At 0820, the number of prisoners who are being force fed at Guantanamo Bay has now risen to 41. And at 0750, residents who live near windfarms could see significant reductions in their electricity bills.
0900

Our editors this morning were Lewis James and Andrew Bryson. Thanks for all your comments, we're back tomorrow from 0600. Coming up next on Radio 4, Melvyn Bragg presents In Our Time. Good morning.




0855

Labour Leader Ed Miliband is making a speech today ahead of the Comprehensive Spending review. Rachel Sylvester, columnist for The Times newspaper, and Polly Toynbee, columnist for The Guardian newspaper, debate Labours proposals which include capping spending on "structural" welfare benefits over a 3-year period.




0850

Boris Johnson has announced that he is to write a biography of Sir Winston Churchill. Jesse Norman, whose biography of Edmund Burke has just been published, and Katherine Hughes, professor of biography at University of East Anglia, and biographer of Mrs Beeton and George Eliot, discuss how biographers choose their subject.




0846

Syrian pro-government forces have recaptured the strategic town of Qusair after a siege lasting more than two weeks. Hamish De Bretton Gordon, former commanding officer of the specialized regiment of British forces which deals with chemical, biological, radiological and nuclear weapons, discusses the threat posed by Syria's chemical weapons.



See more live updates